The degree of planning required to complete this Art Deco meets Craft Cocktail wedding inspiration shoot still surprises me even today. The wedding inspiration shoot took months to plan, a full day to capture, and even more months for publication. However, I'm thrilled the outcome was published today on 100 Layer Cake, and that I can finally share the work with everyone.
This wedding inspiration shoot demonstrates what top-talent can do outside the confines of an actual wedding. Creative daydreams are let loose and the outcome can truly be amazing. As an example, the art deco design and styling from Janelle Miller at With Love and Whimsy Events is gorgeous. Featuring rich golds and deep blacks, each element is designed to be an easy DIY project. The florals from Molly Talyor Designs also capture the look perfectly. Renoir Calla Lilies, Mona Lisa Anemones, Gold Combo Roses, hand-painted gold tipped succulents and feathers combine for a rich, opulent palate.
We also wanted to take the inspiration to the next level and feature tasty drink recipes that anyone could use as a featured drink at their wedding reception. While I tend not to give out my personal drink recipes, I thought offering a few for this wedding publication would be worth it. If you're a bourbon fan, then you'll definitely want to check out the recipes included on 100 Layer Cake, and repeated below.
Lastly, I'd like to offer some special thanks. Without the help of the entire team, this wedding inspiration shoot would still just be an idea on paper. Thanks to the always awesome team at Cleveland's Holden Arboretum for letting us use the gorgeous Lantern Court. Karin and Rebecca from Something White Bridal supplied the fashions and they look amazing. Lindsay and Sarah did an awesome job with hair styling and make-up. And the furnishing provided by Ann at Borrowed Vintage + Eclectic were just what we needed.
Hope on over to 100 Layer Cake for all of the inspiration details. Included below are a few extra highlights as well -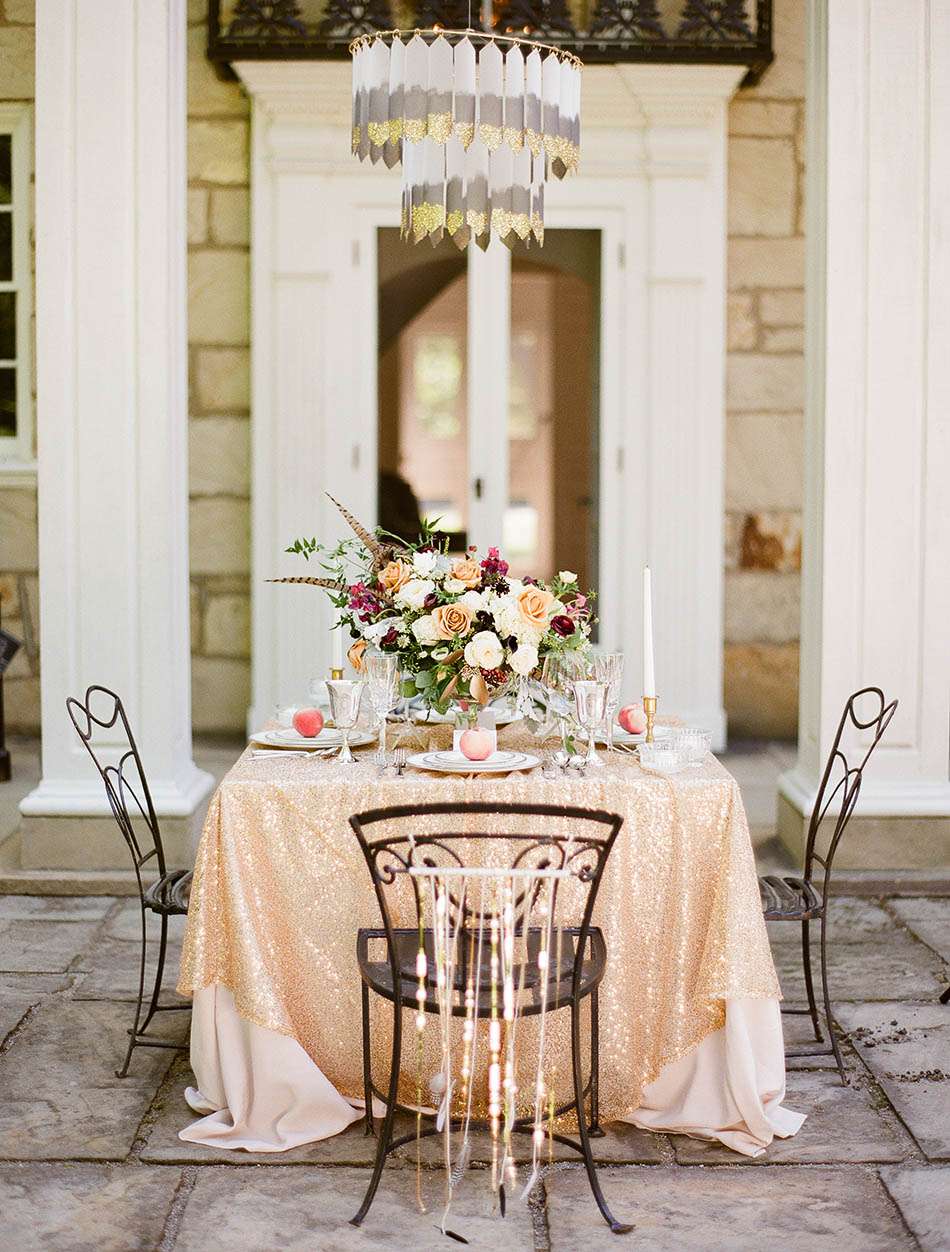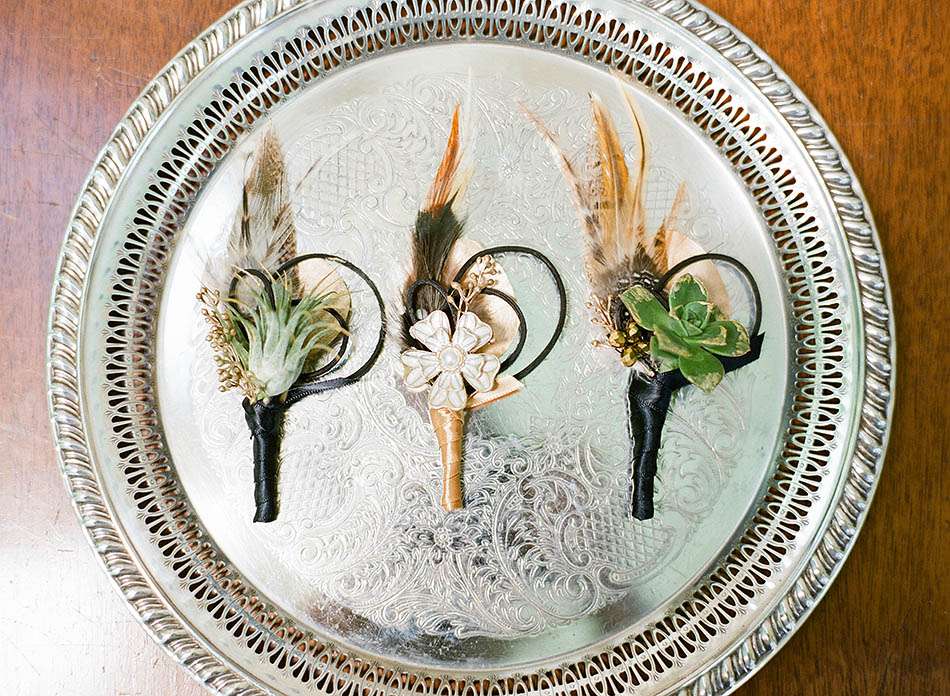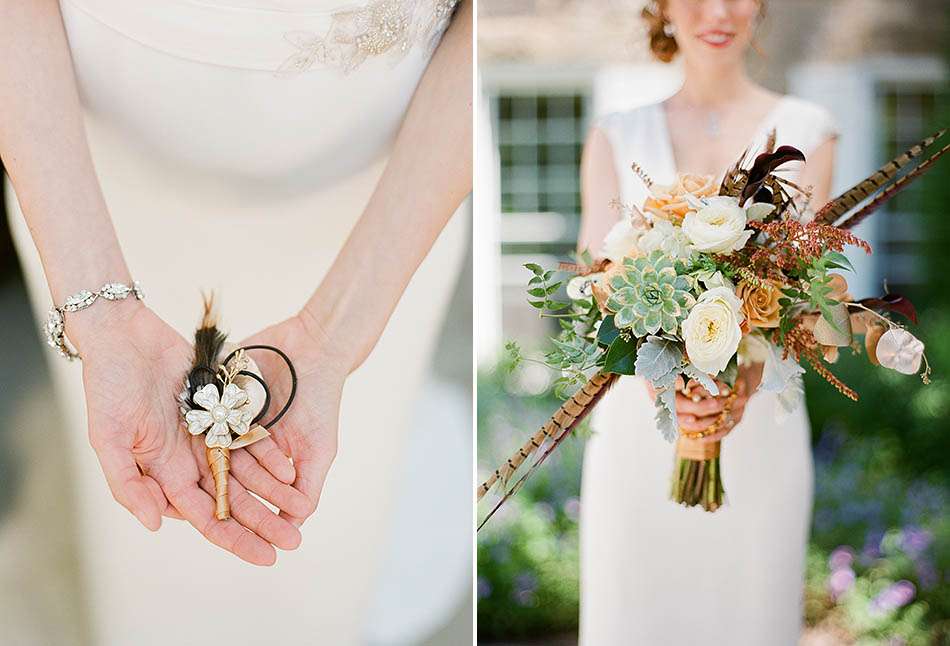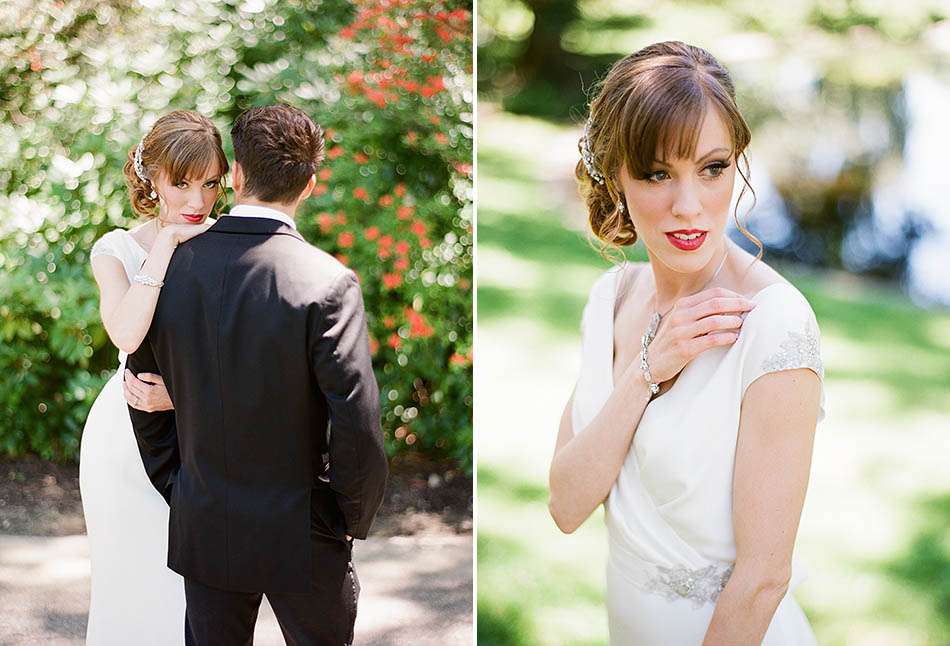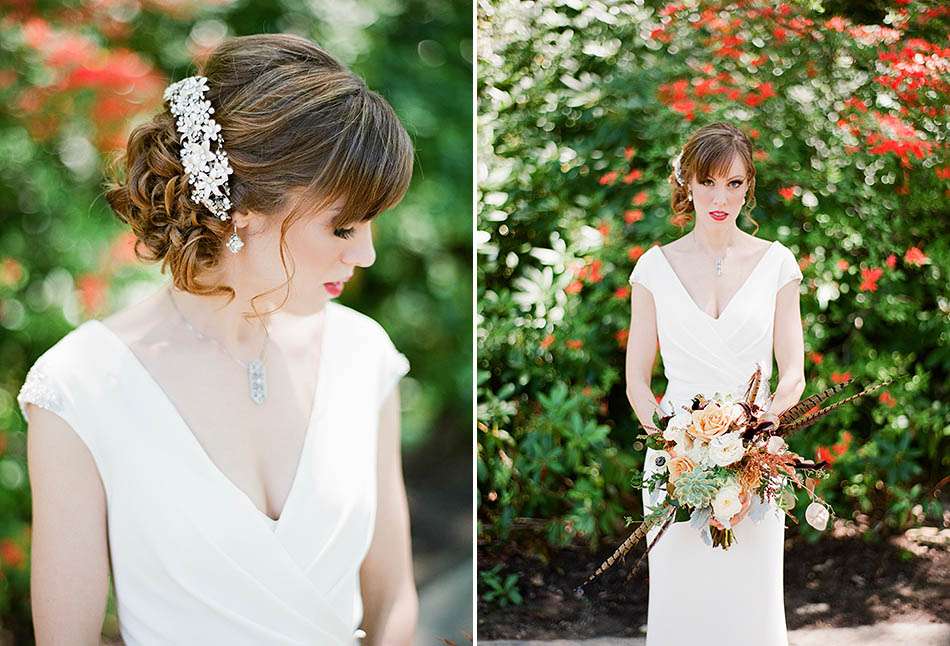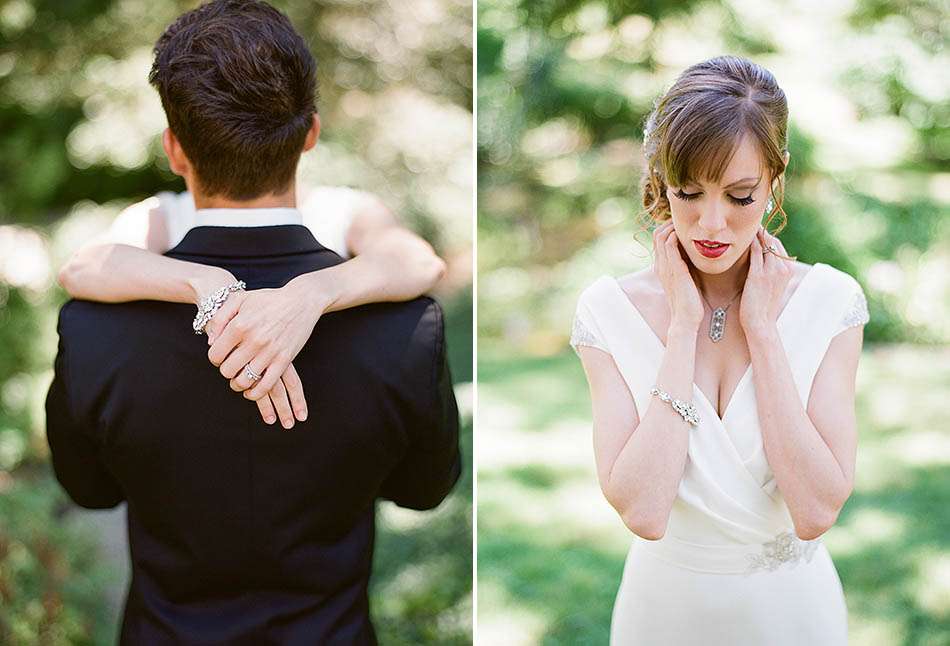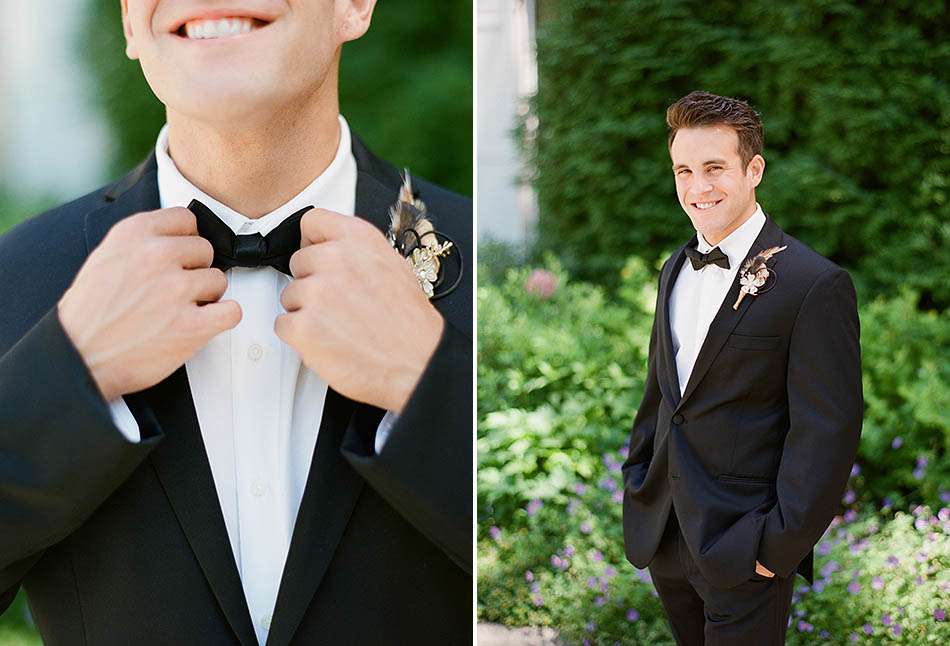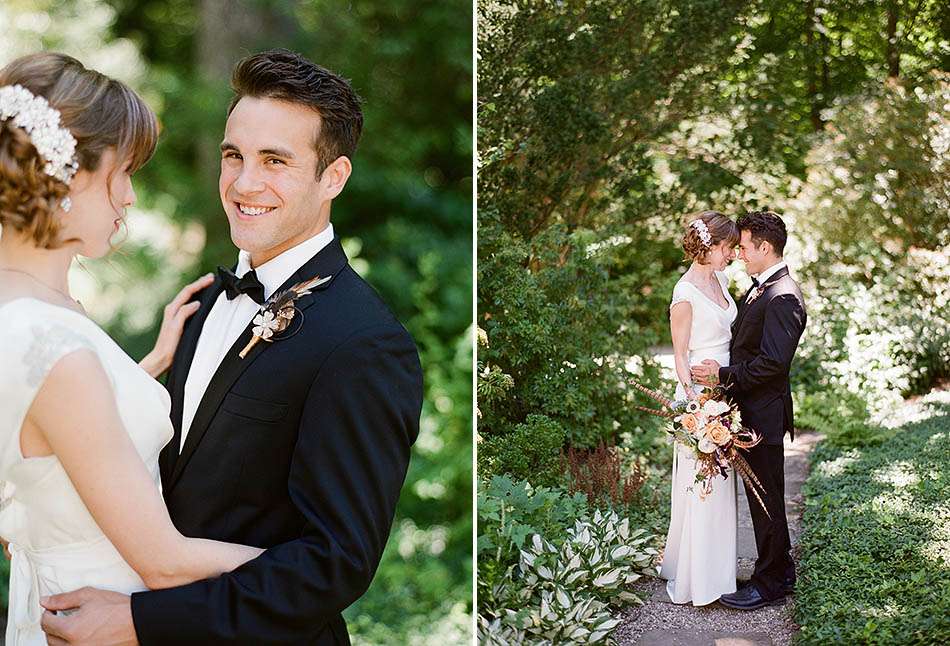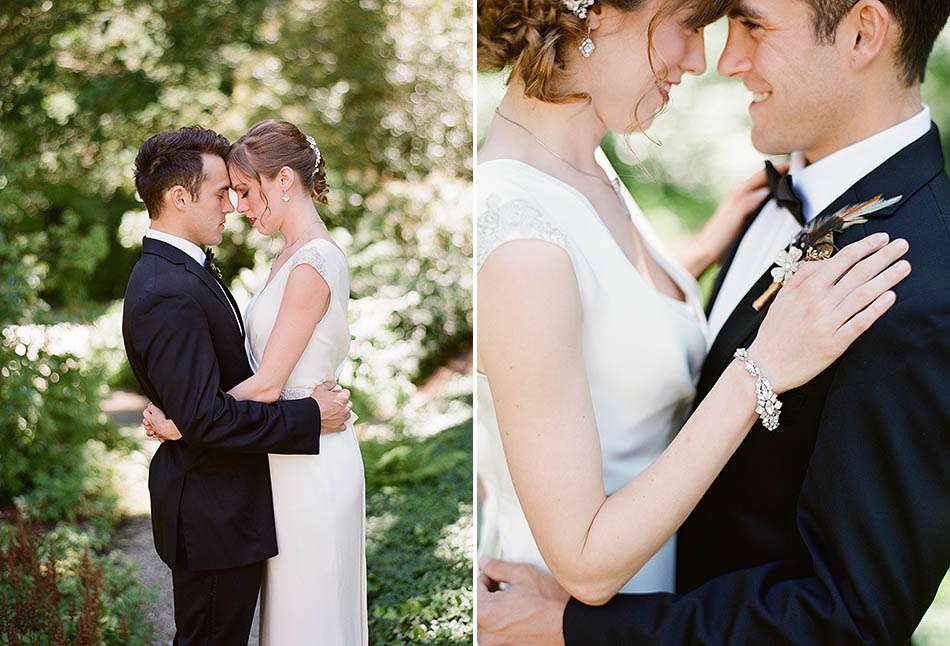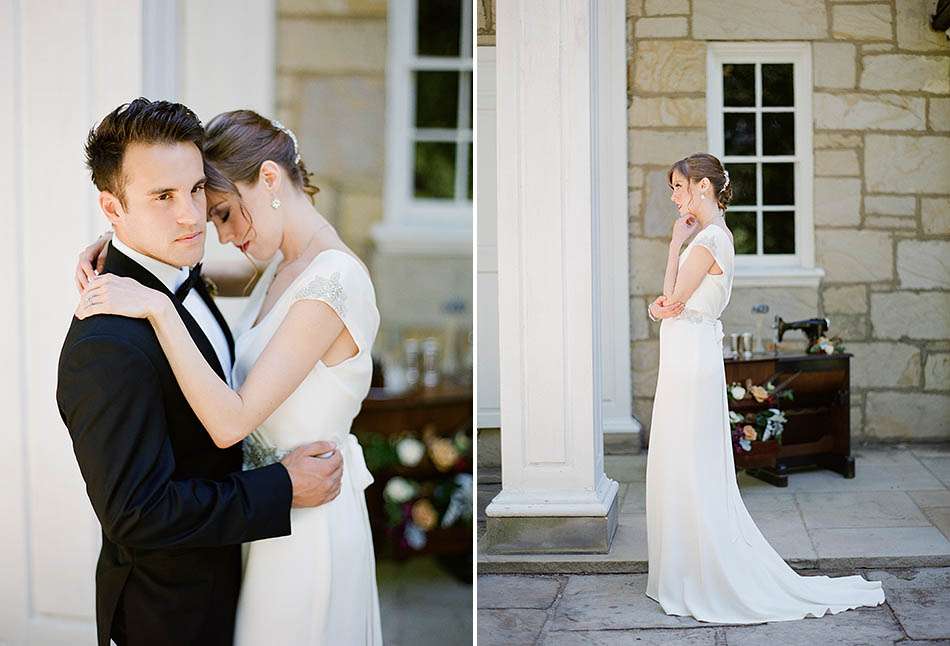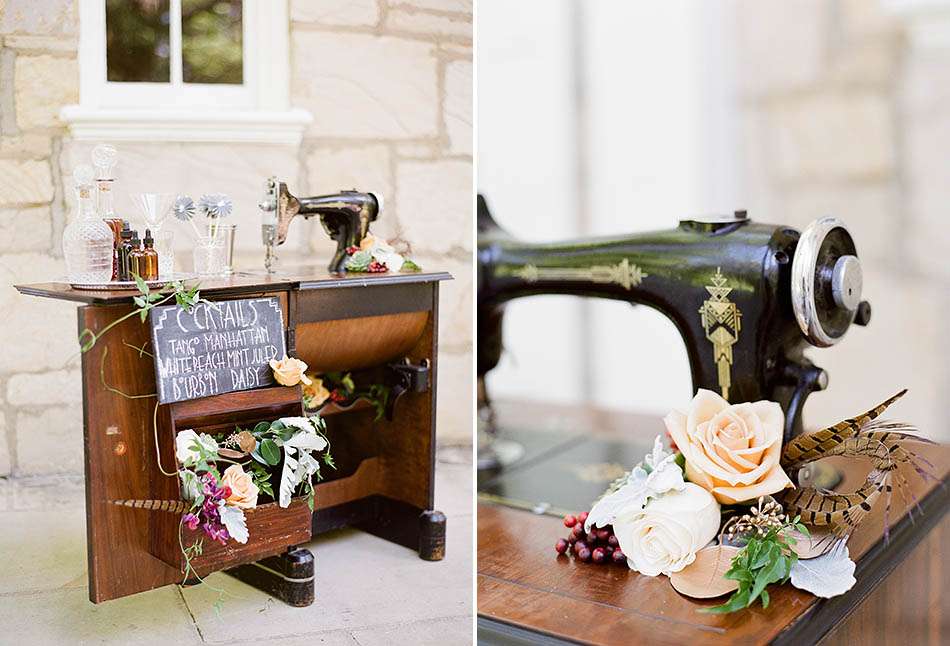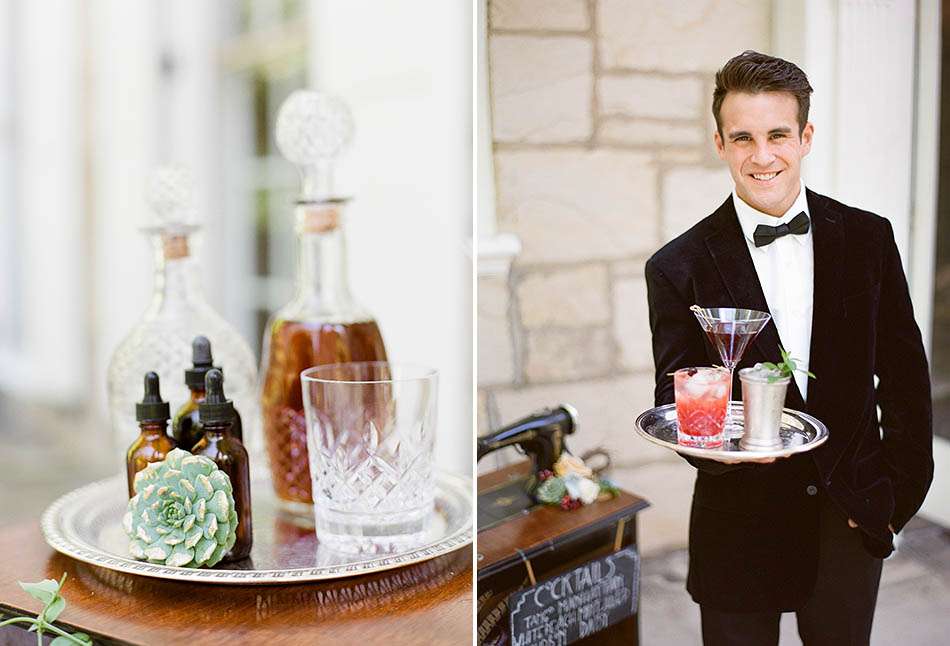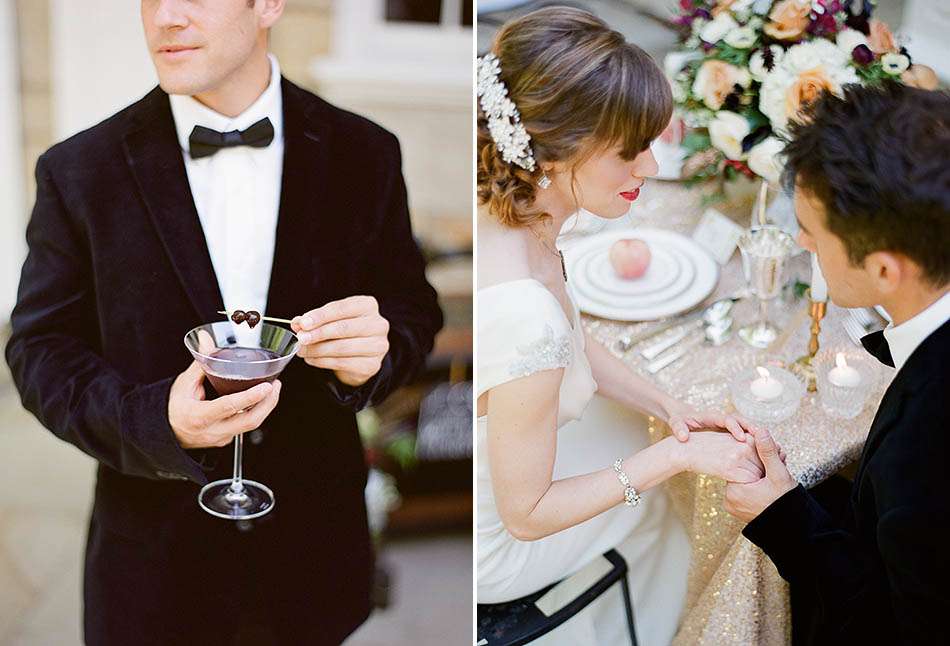 Tango Manhattan cocktail recipe:
2 oz. Maker's Mark Bourbon
1 oz. Red Wine Reduction
4-­6 drops Angostura bitters
Stir vigorously over ice.
Pour into chilled Martini glass.
Garnish with 2 Amarena Fabbri cherries.
Red wine reduction
1 bottle Petite Syrah + 1 cup sugar
Reduce wine by half.
Add sugar, stir to dissolve.
Cool and store in refrigerator until ready to use.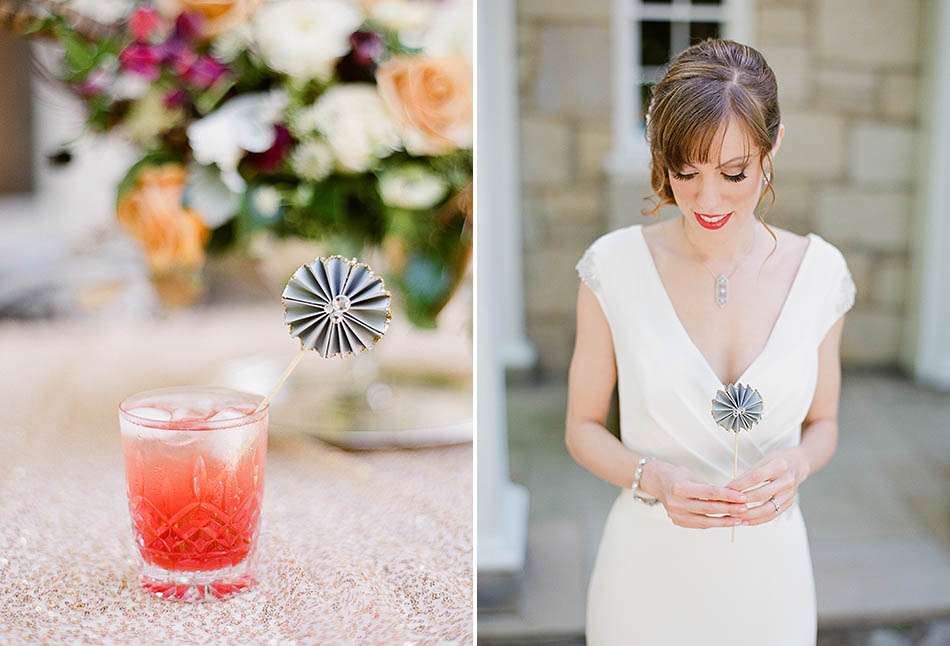 Pomegranate Bourbon Daisy cocktail recipe:
2 oz. Maker's Mark Bourbon
1⁄2 fresh squeezed lemon
1⁄2 oz. ginger syrup
1⁄2 oz. pomegranate syrup
2 oz. club soda
Stir over ice. Pour into tumbler glass with ice.
Top with 4-­6 drops Angostura bitters.
Garnish with Amarena Fabbri cherry & lemon twist.
Pomegranate Syrup
1 cup pomegranate juice (no sugar added) + 1 cup sugar + 1 teaspoon fresh lemon juice + 2-3 drops orange flower water
Bring pomegranate juice to bare simmer. Turn off heat. Add sugar, stir to dissolve. Add lemon juice and orange flower water. Cool and store in refrigerator until ready to mix with alcohol.
Ginger Syrup
1 pound fresh ginger & 1 cup sugar
Peel ginger. Grate over bowl with microplane. Place grated ginger in a clean tea towel. Squeeze grated ginger juice into bowl. Add sugar and place juice in a storage bottle. Shake vigorously to dissolve sugar. Store in refrigerator.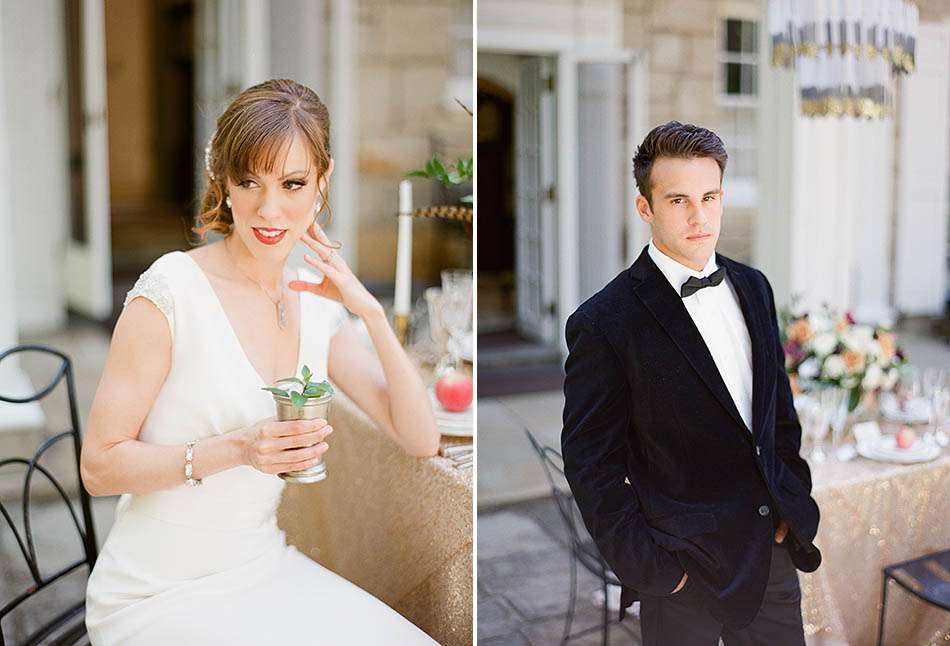 White-Peach Mint Julep cocktail recipe:
2 oz. Maker's Mark Bourbon
1 oz. white ­peach infusion
1 oz. club soda
Muddle 4­-6 mint leaves in julep cup.
Add ice to cup. Shake bourbon and infusion over ice .
Pour into julep cup. Top with club soda.
Garnish with mint sprig
White-Peach Infusion
2 cups water + 2 cups sugar + 1 ripe white peach
Bring water to simmer, turn off heat and add sugar. Stir to dissolve. Add chopped peach, skin and stone removed. Steep until cool. Remove peach and store in refrigerator until ready to mix with alcohol.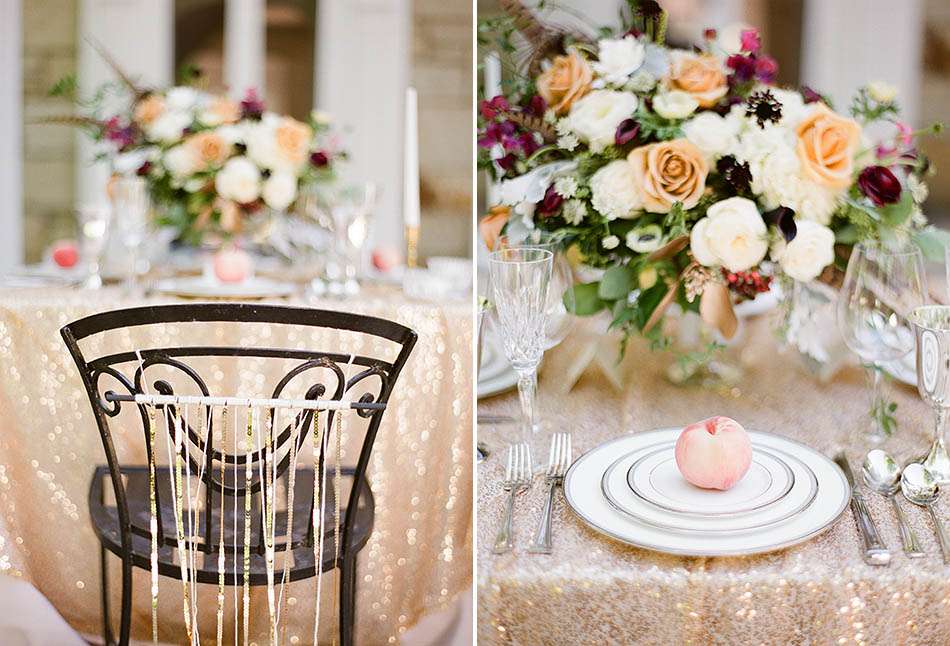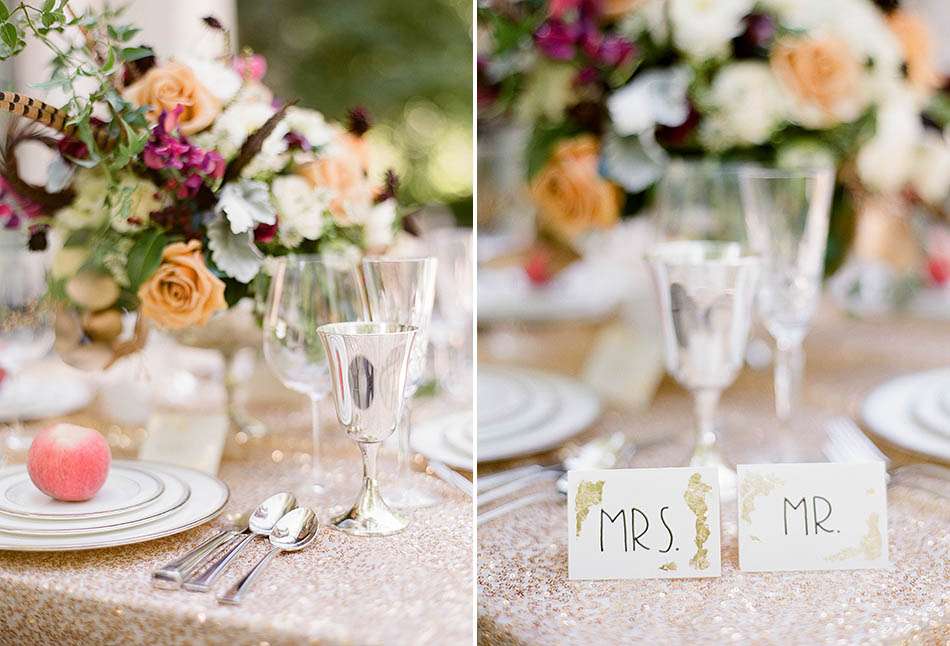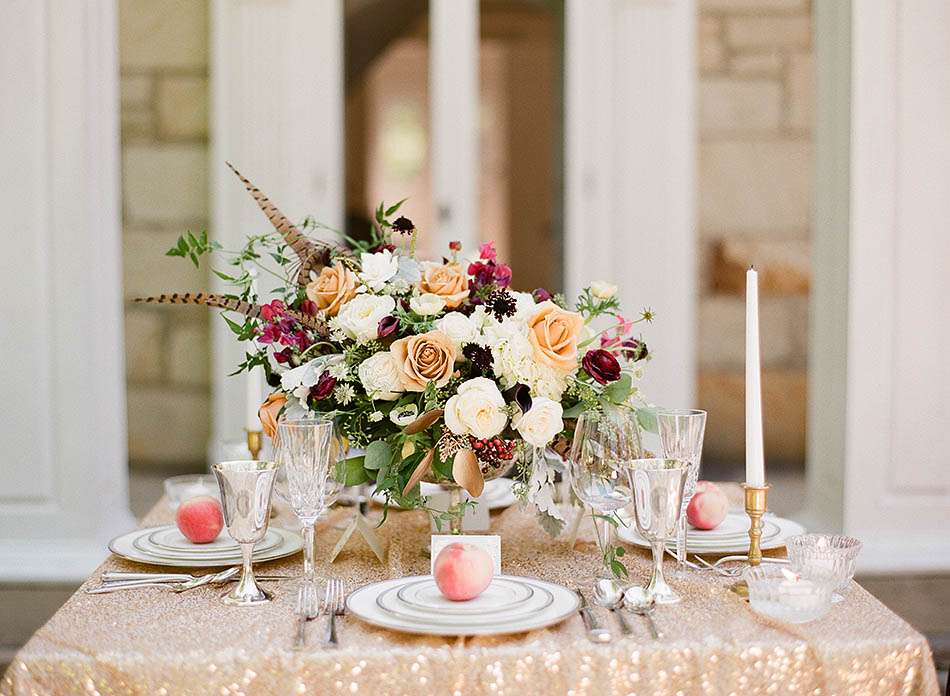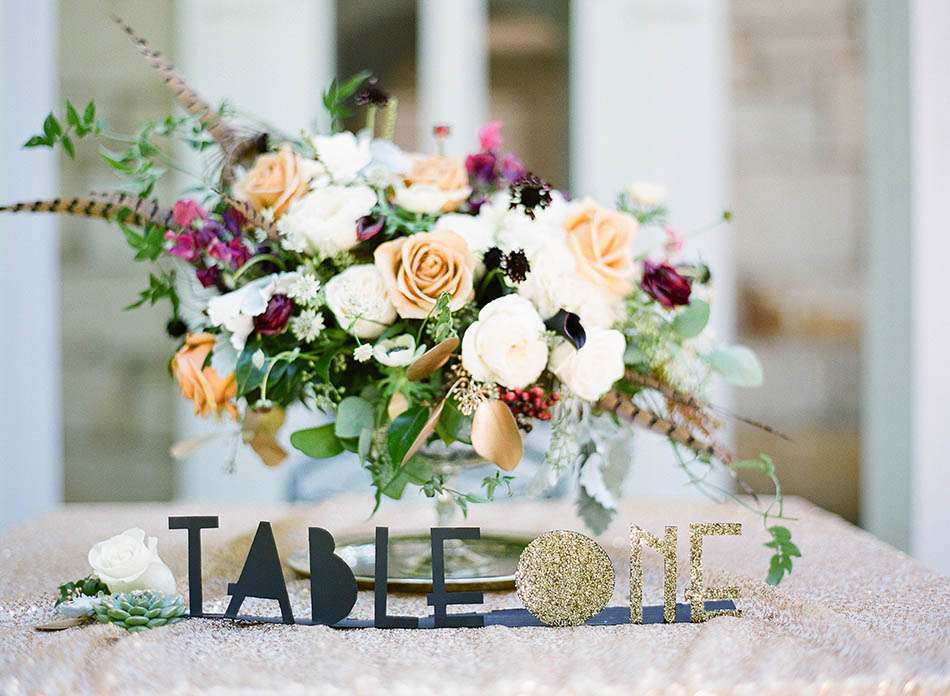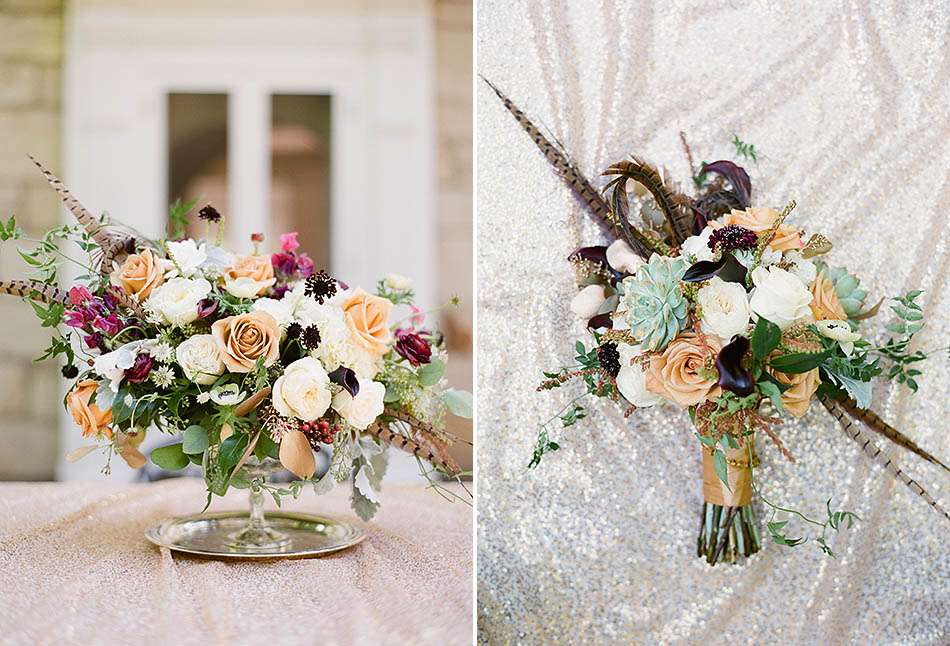 Event concept & design – With Love and Whimsy Events
Photography - Hunter Photographic
Location – Lantern Court at Holden Arboretum
Bouquets, boutonnieres, and table flowers - Molly Taylor Designs
Bridal fashions – provided by Something White Bridal Boutique
Vintage furniture - Borrow Vintage + Eclectic Rentals
Hair & make-up styling – Lindsay London & Sarah Wassil