It was going to be a very long day, but we were well prepared. The longest wedding of the year was finally here, and certainly it was one of the most important. It was Caroline & Todd's wedding day and everything had to be perfect. Thankfully, the locations were gorgeous and all within easy reach of each other. The ceremony would be at St. Ann's Church, just up the hill from the Cleveland Museum of Art, where we would do the wedding portraits. Finally, we would end the day at the Hyatt Arcade in downtown Cleveland for the wedding reception.
When I arrived at Caroline's family home, all the ladies were quickly getting ready. There was an excitement that goes along with any big day. After shooting some details, including Caroline's gorgeous Jimmy Choo's, it was time for her to get ready. One of my favorite moments of the wedding took place in the morning. Without any prompt from me, Caroline's mother, grandmother and sister-in-law gathered around as she got ready – watching, listening, helping and hugging.
The rest of the wedding day was filled with similar intimate moments. Todd's look from the altar as he saw Caroline for the first time was priceless. Caroline beamed with joy as Todd said his vows. A big hug from grandmother put a seal of approval on the entire ceremony. After the ceremony, there was a big exit to an awaiting Ford limousine.  We headed off to the Cleveland Museum of Art for some bridal party photos. Mostly, the photos simply became friends and family having fun together. At the reception, the great moments continued.
The wedding reception design put together by Caroline and Valarie from Kirkbrides was simply stunning. Long tables filled the reception at the Hyatt Arcade. Each was decorated in a theme of chevron and purple. Even the guest favors were tied neatly with a chevron-patterned bow. And the three-tier wedding cake was simply amazing. The wedding reception got off to a poignant start with a emotional first dance, followed by personal and heartfelt toasts. Dancing and partying  then followed late into the night.
And I do mean late into the night. The reception went past 11:00 and concluded with everyone dancing around Caroline and Todd to Neil Diamond's "Sweet Caroline". That was…AWESOME! Across the street we went for an after-party event at the Corner Alley. If you asked me a year ago if I would see a bride bowling in her dress, I'd have thought never. Well, you never know what you will see at a wedding!
I'm so thrilled with how everything turned out and I certainly hope you enjoy the highlights below.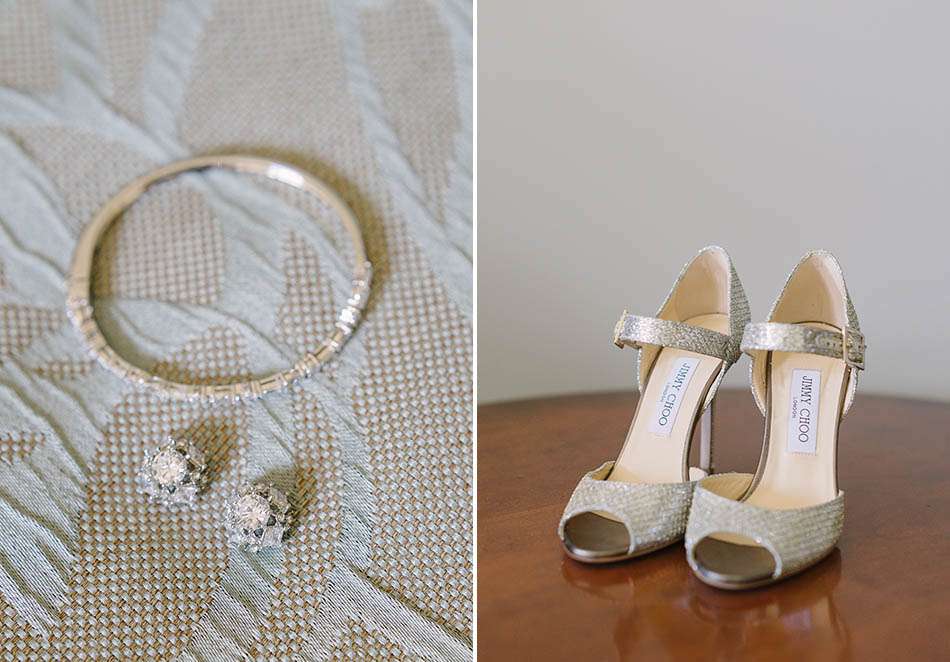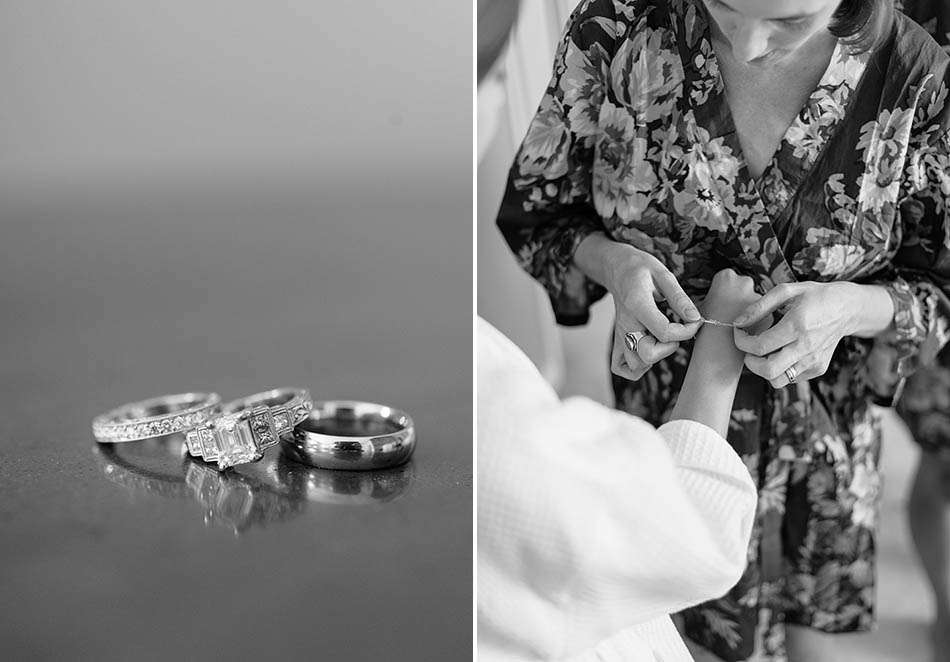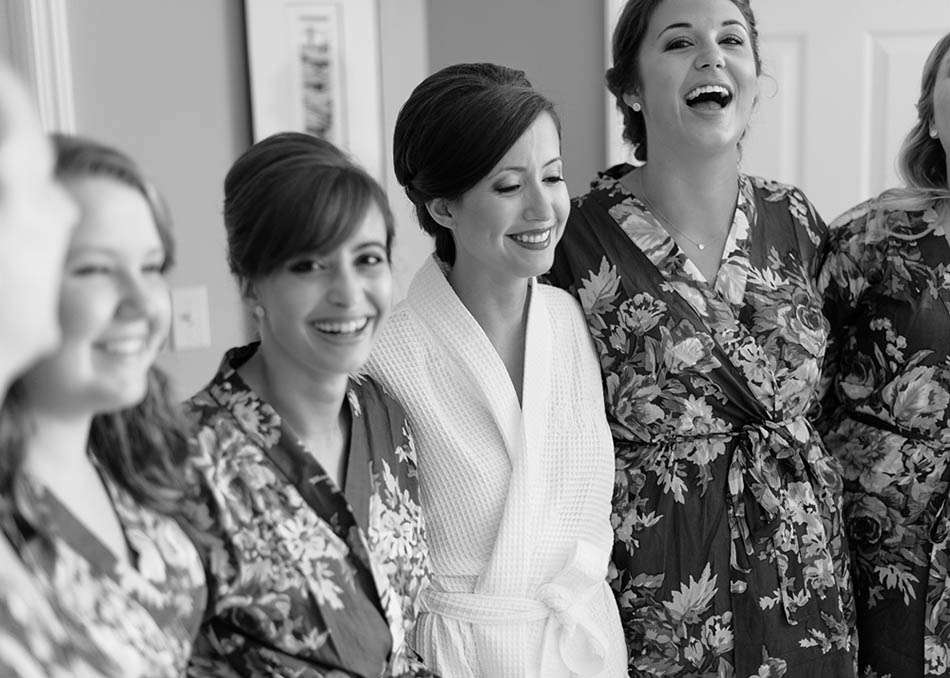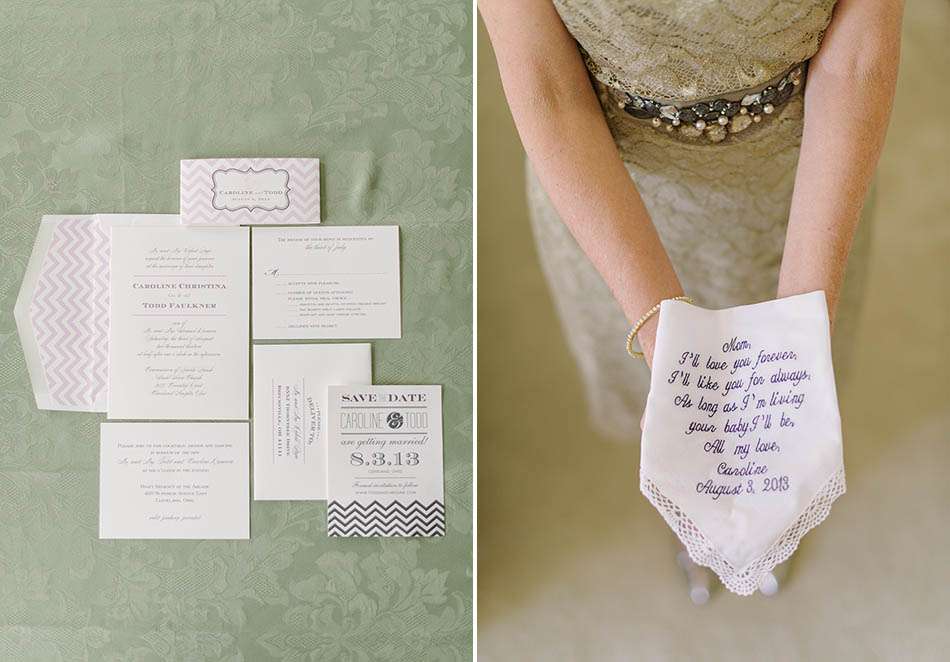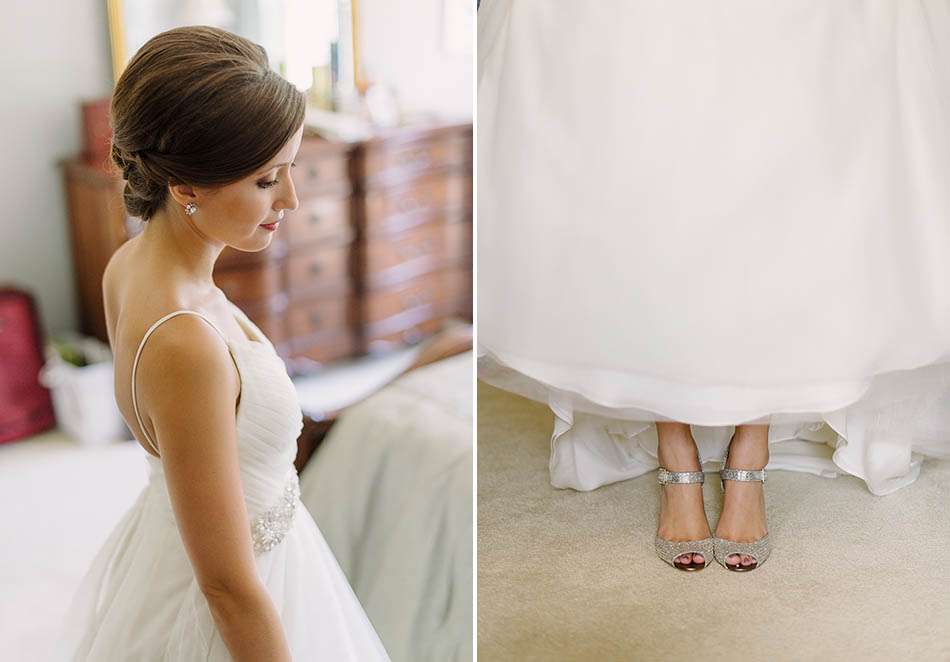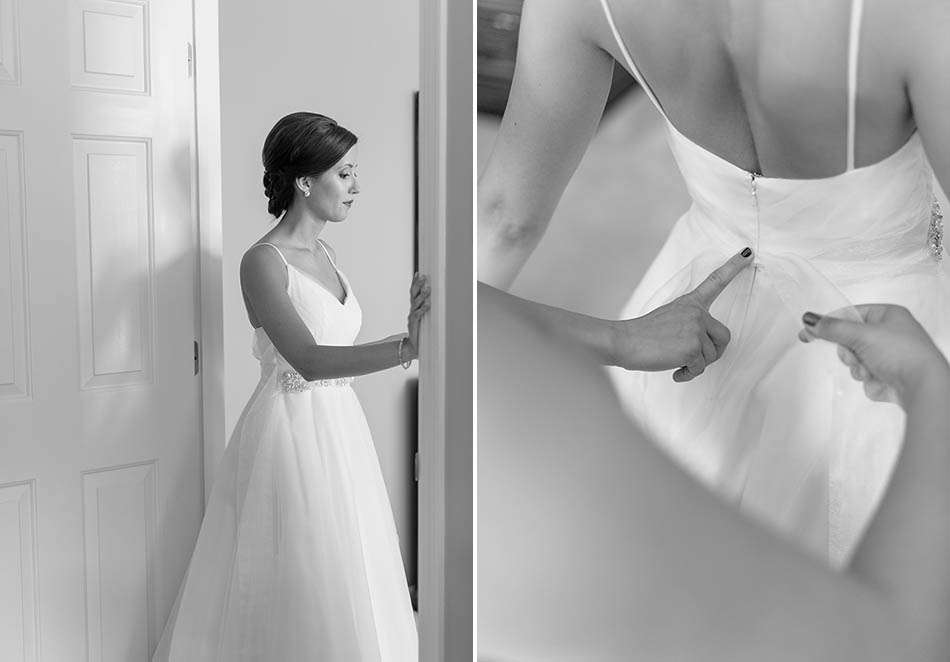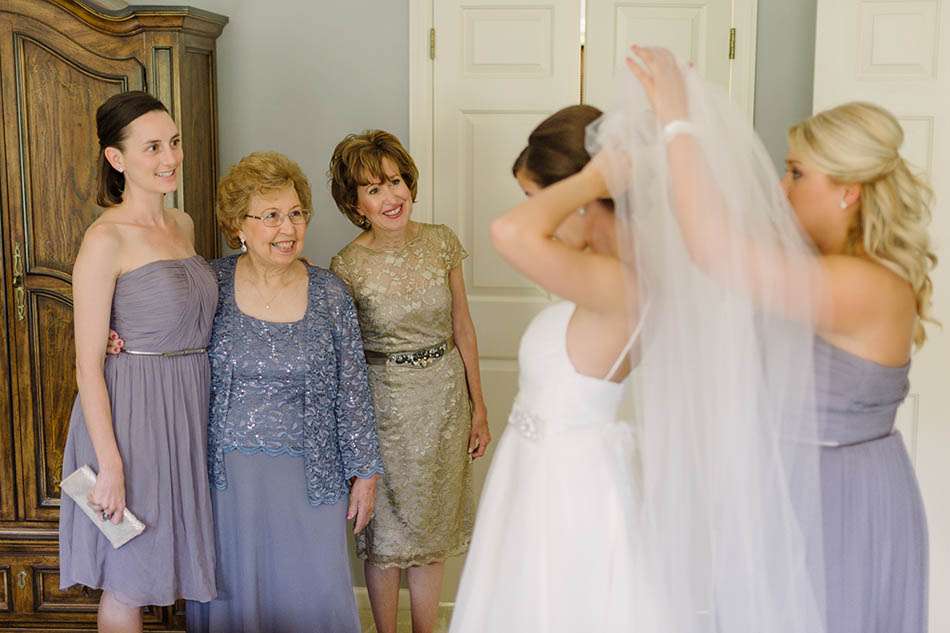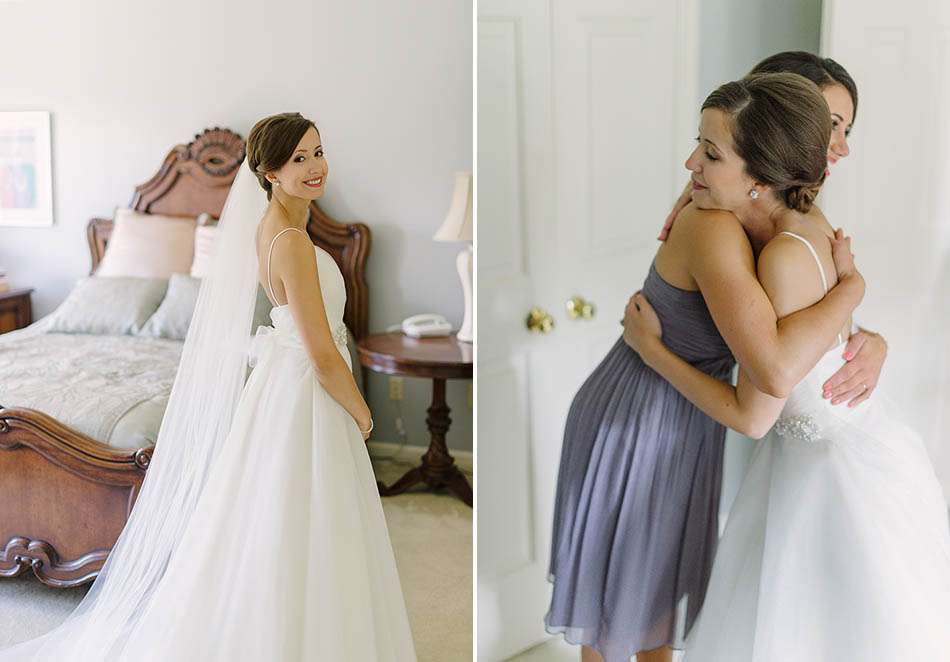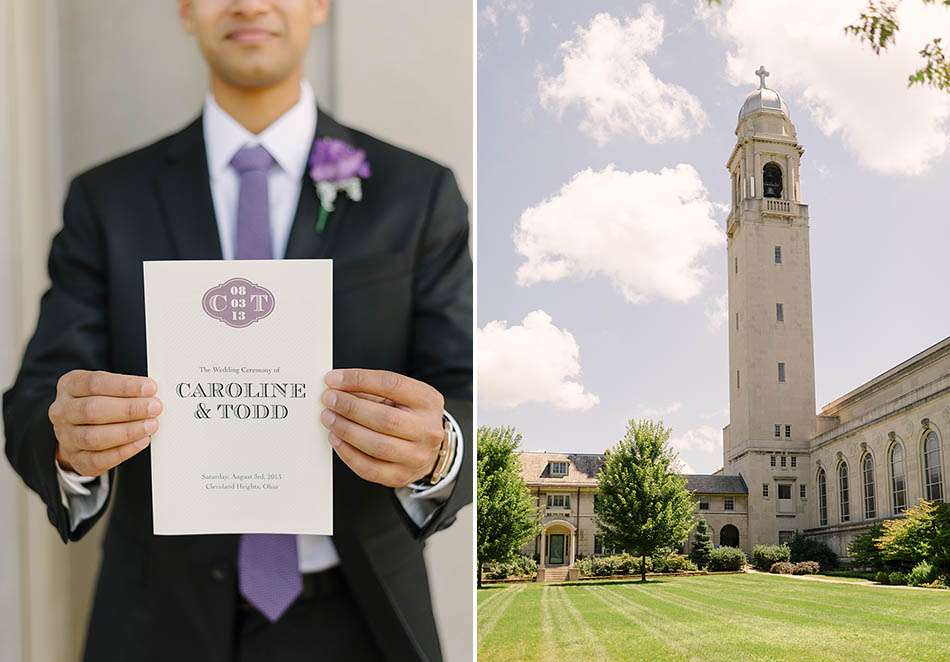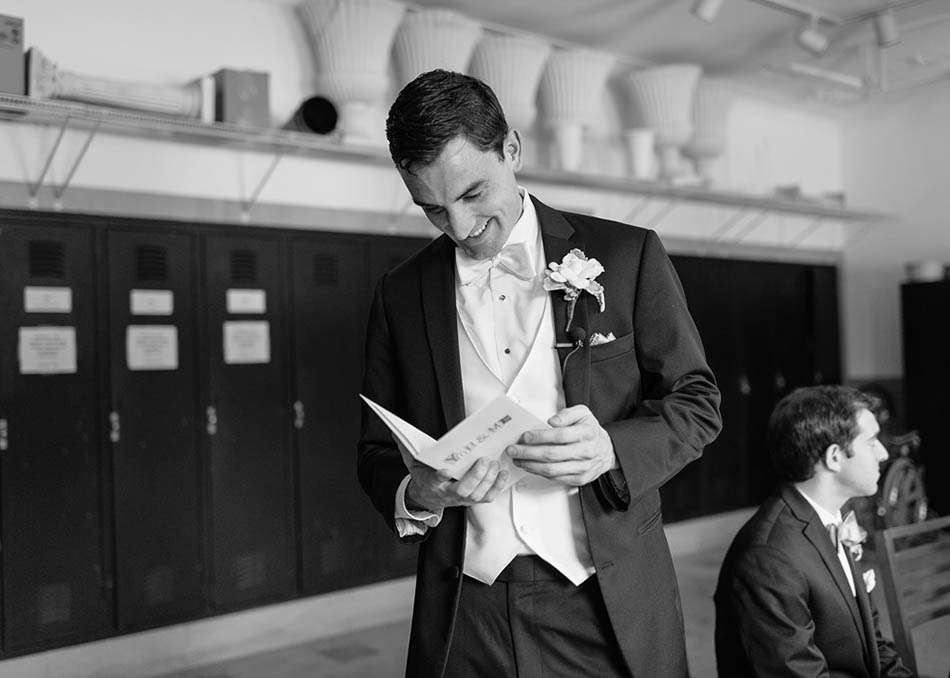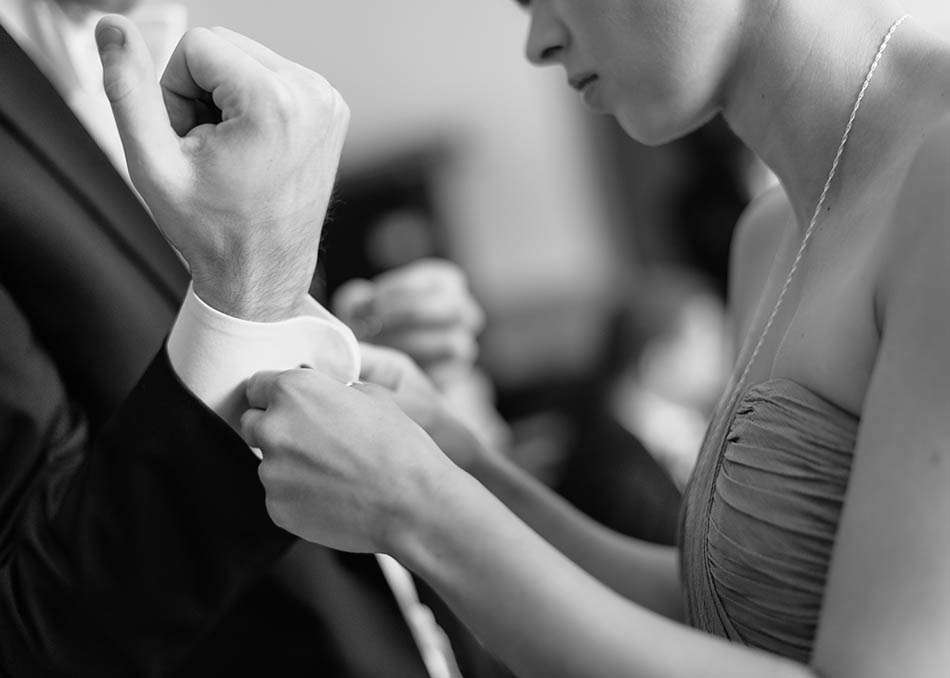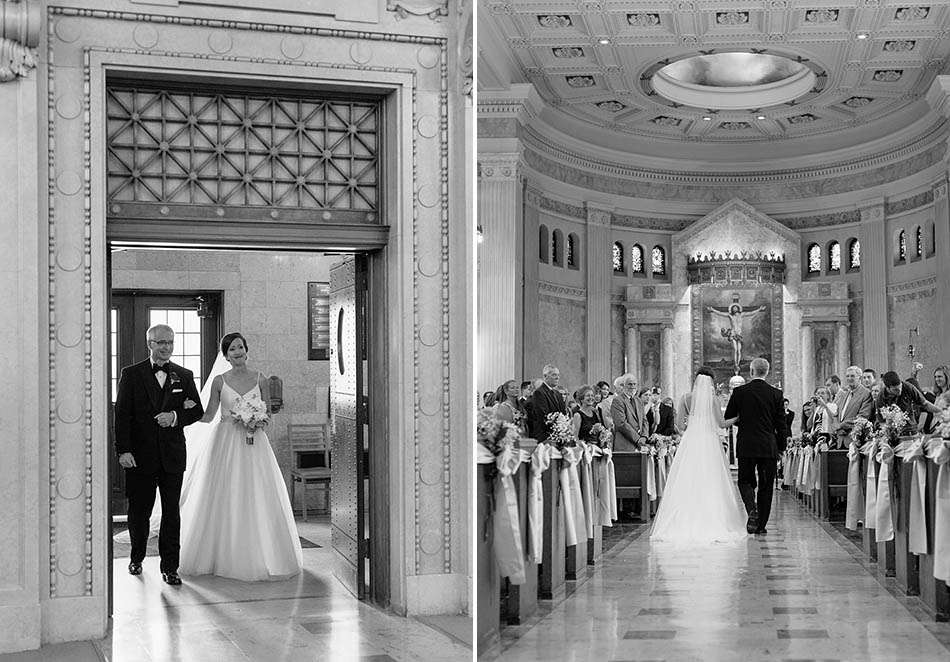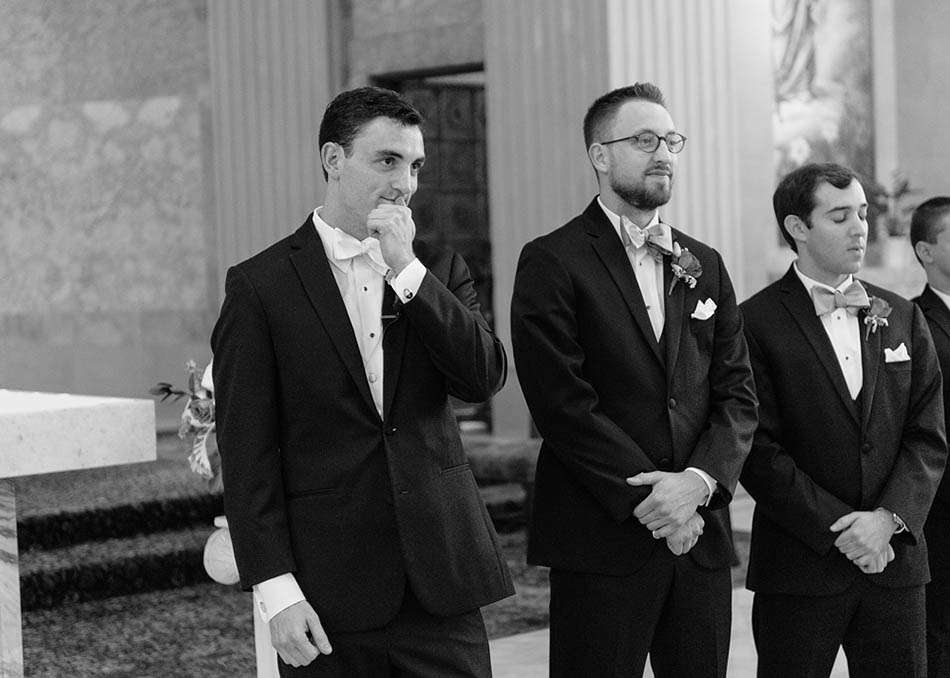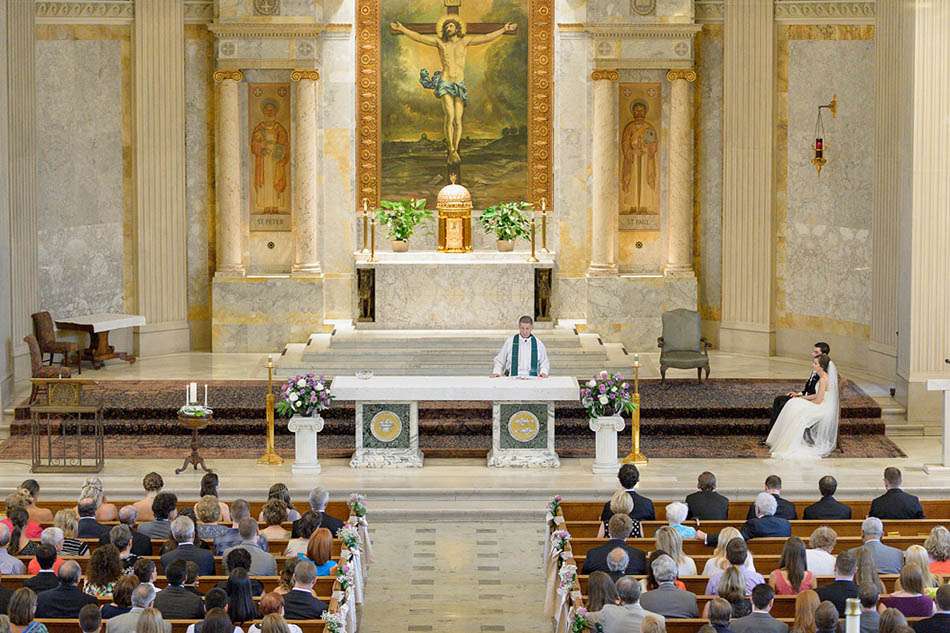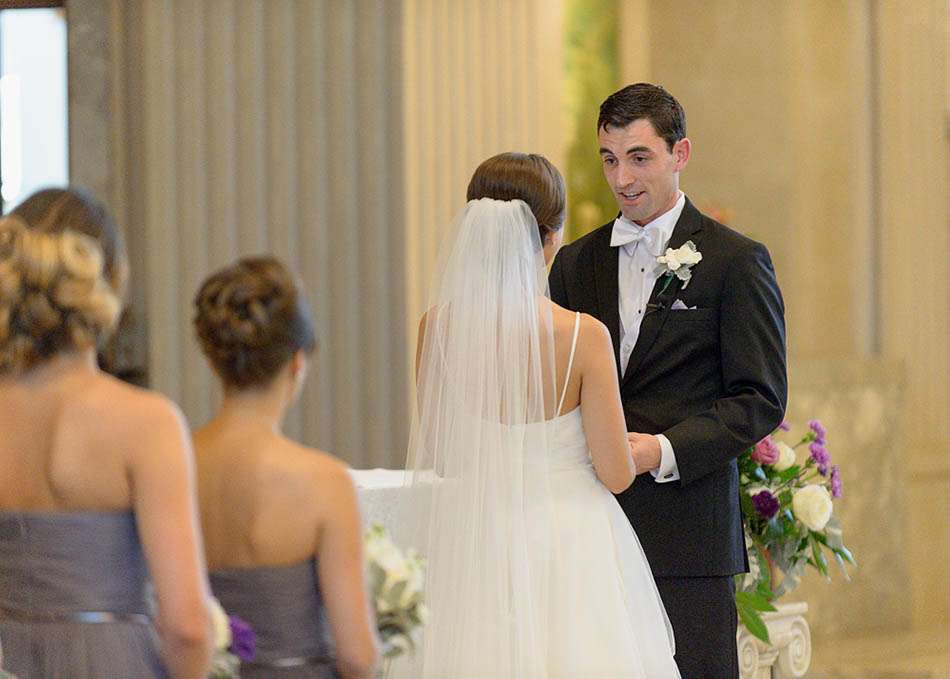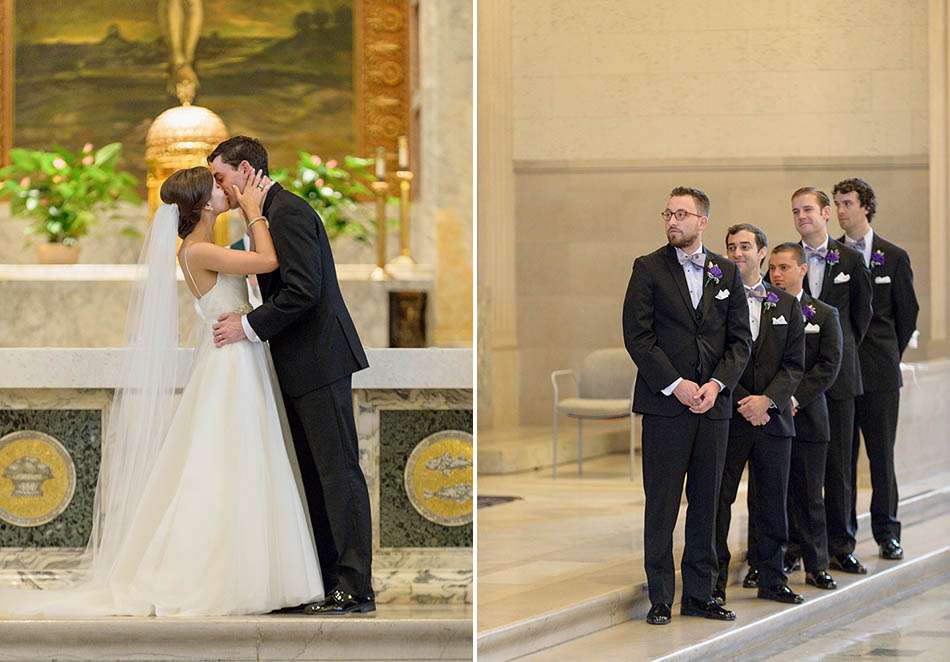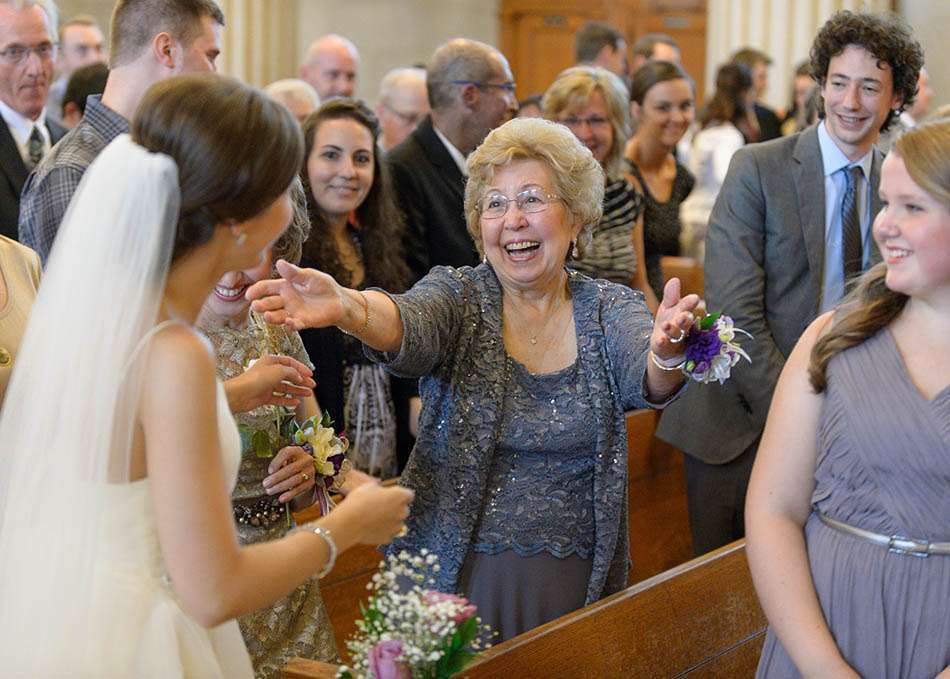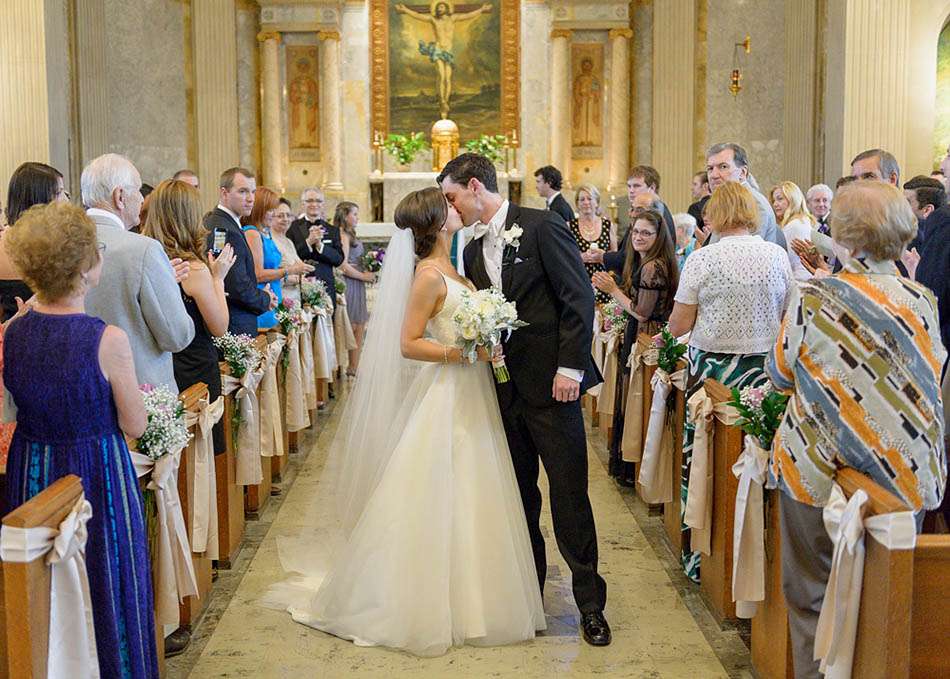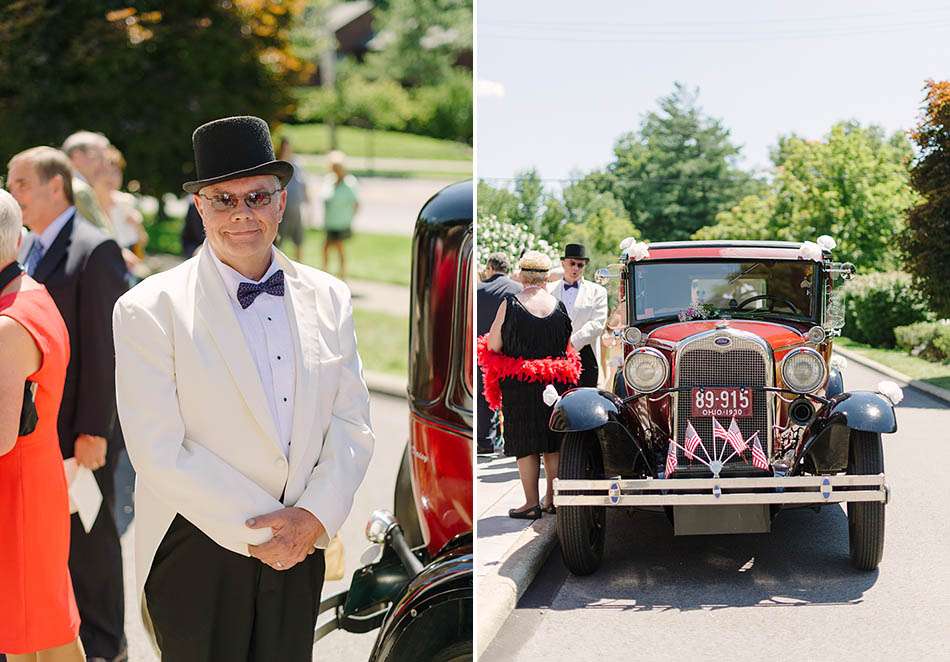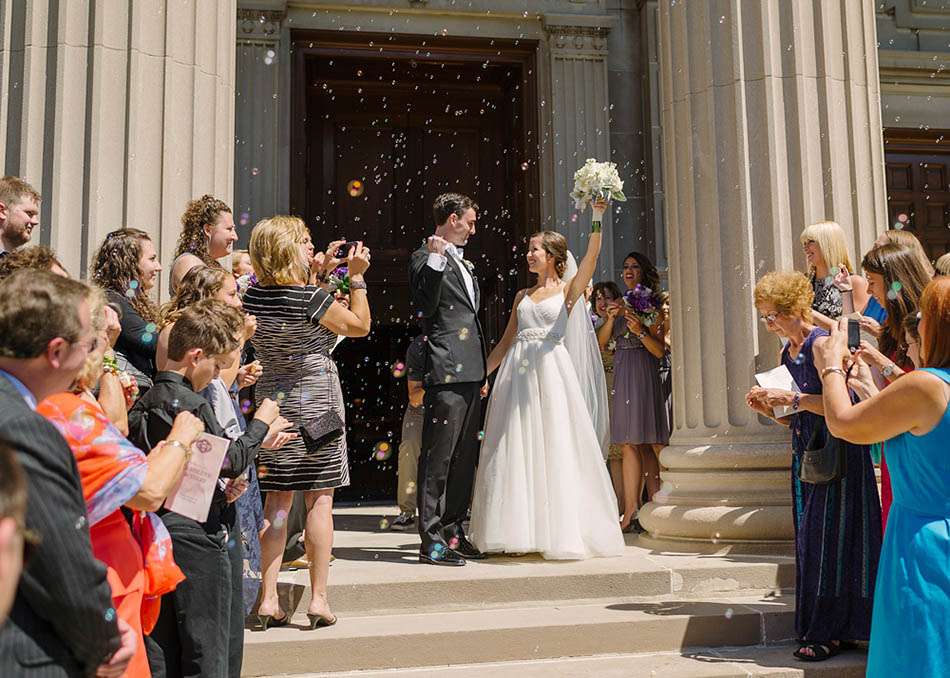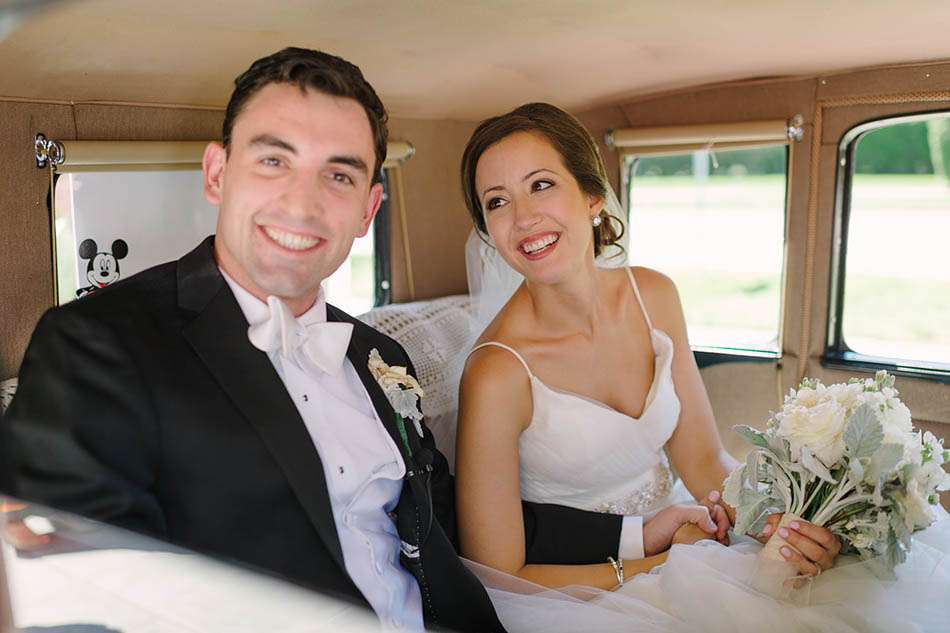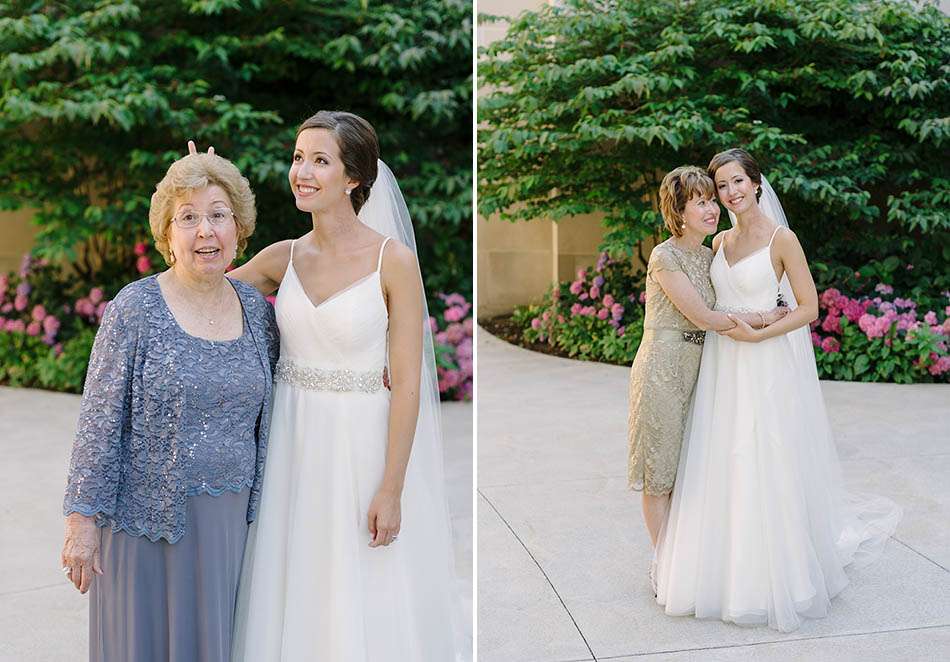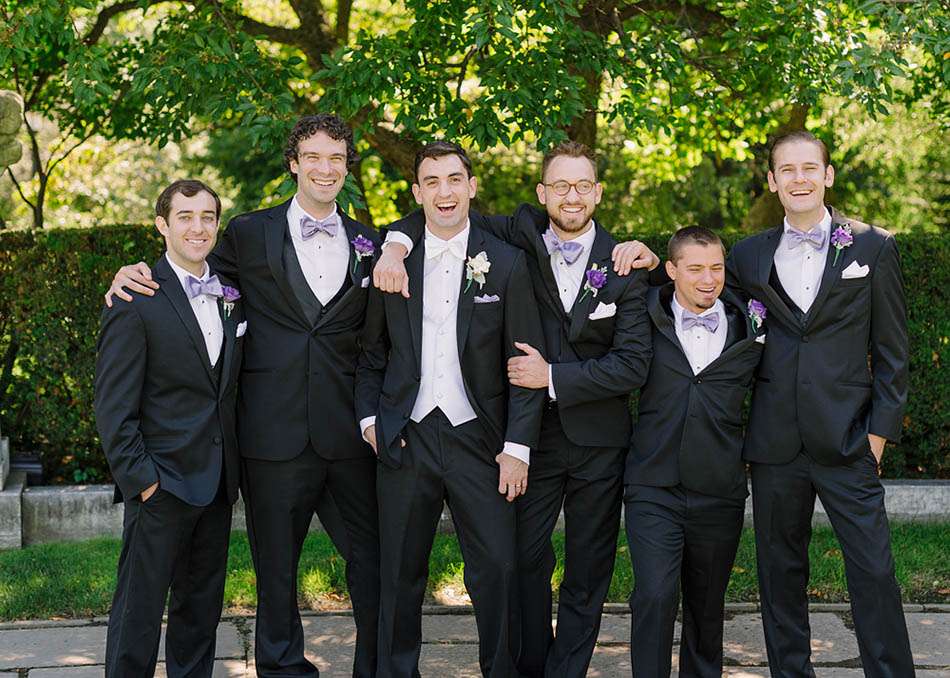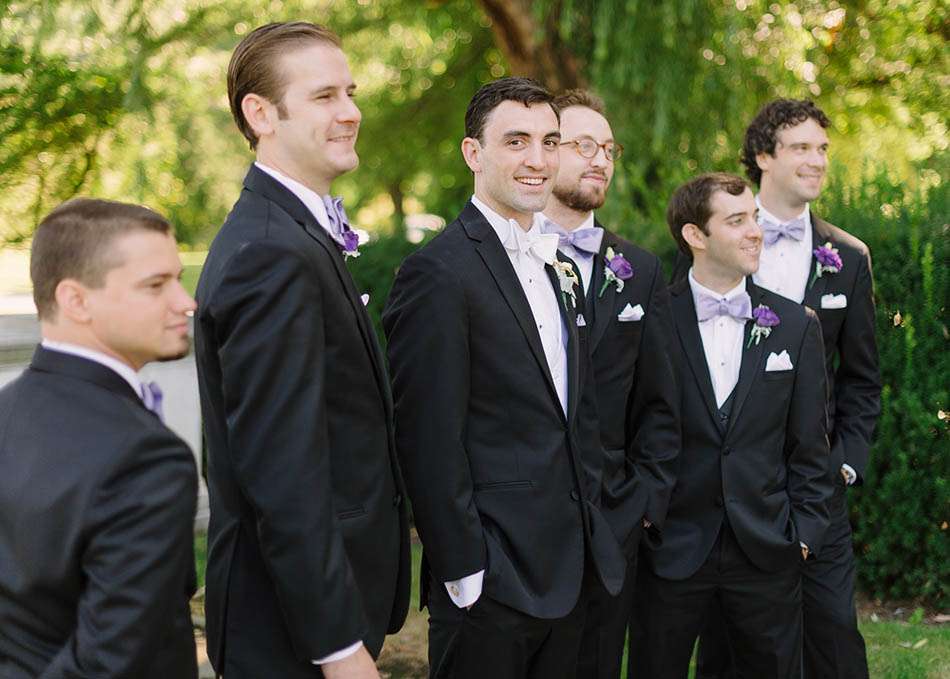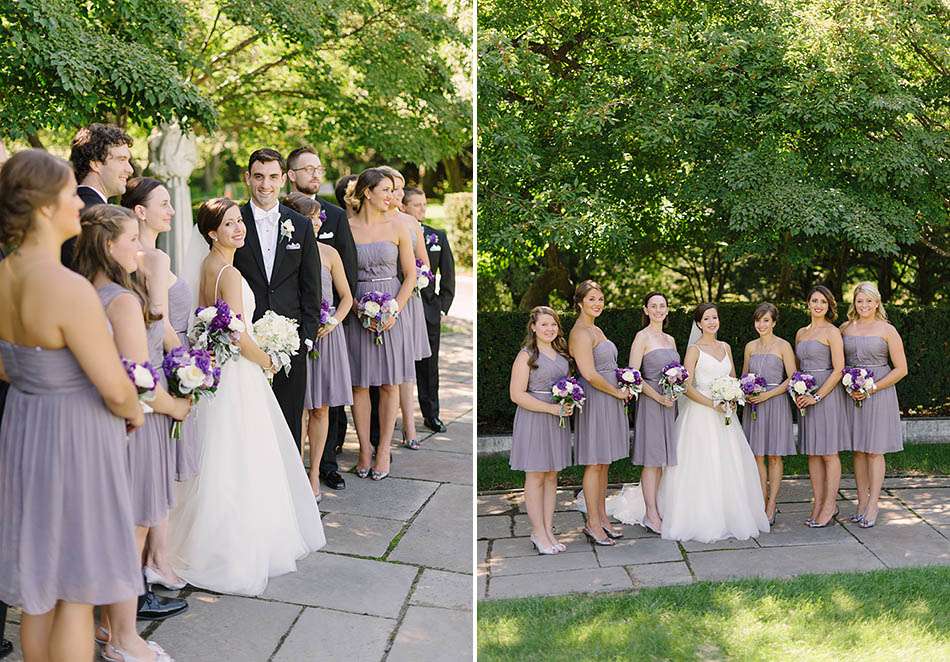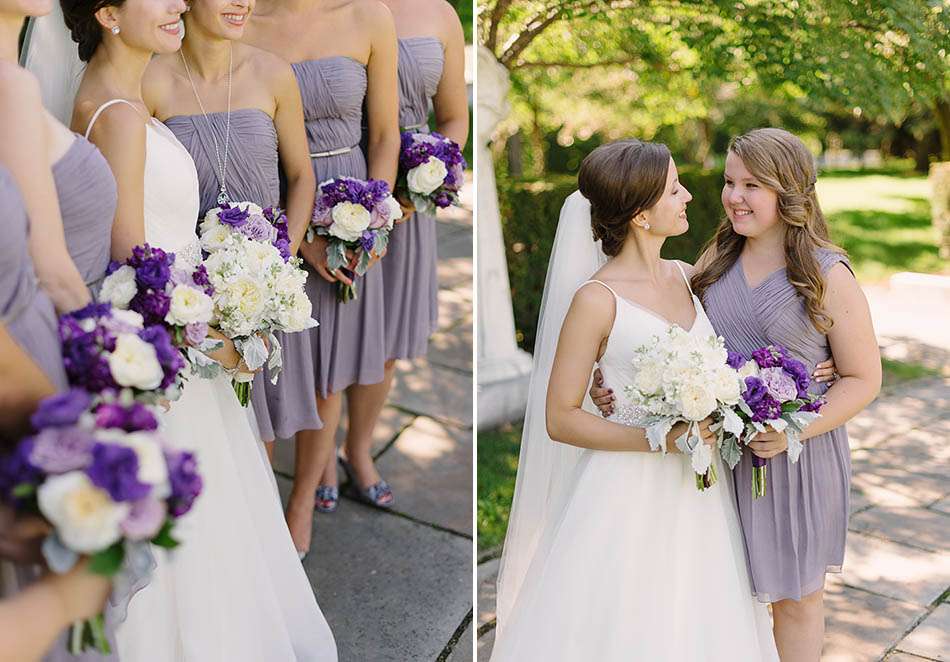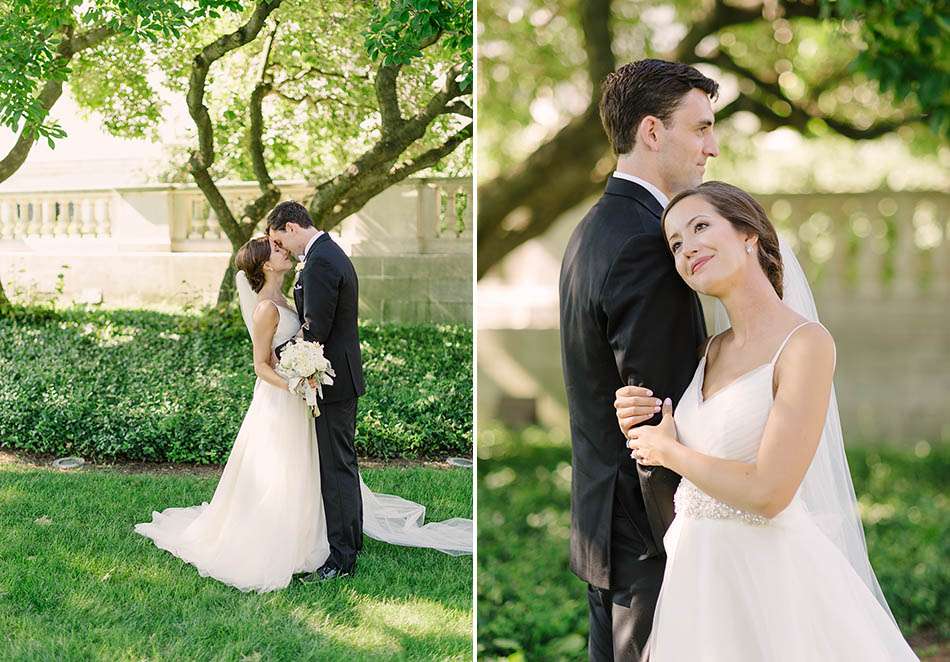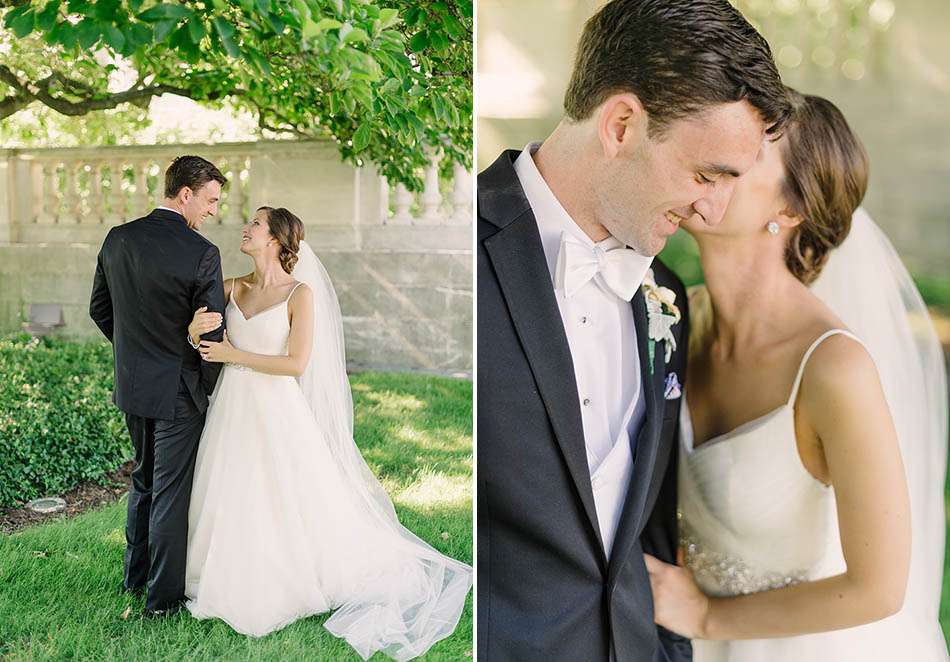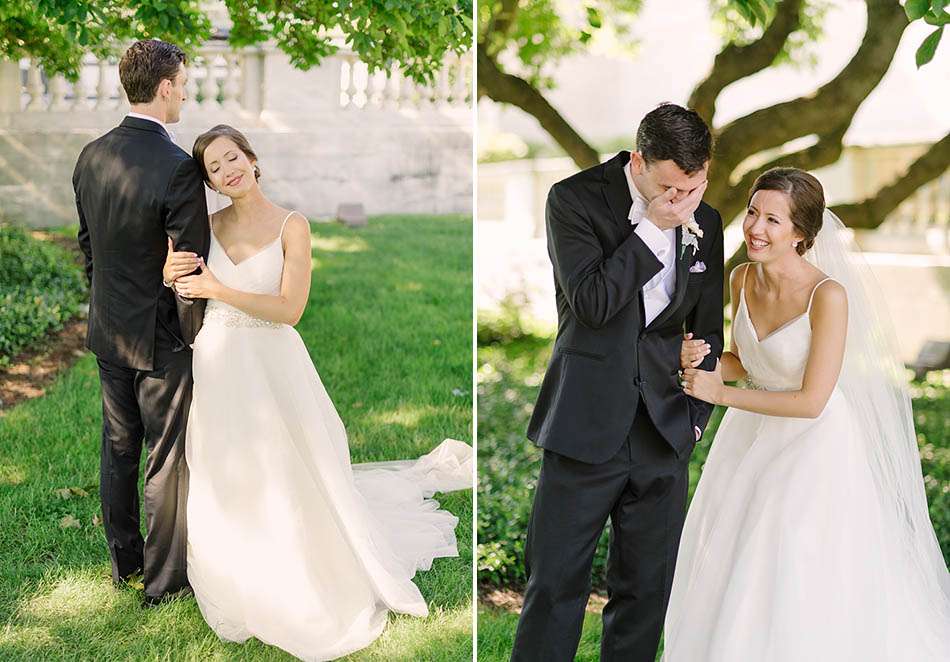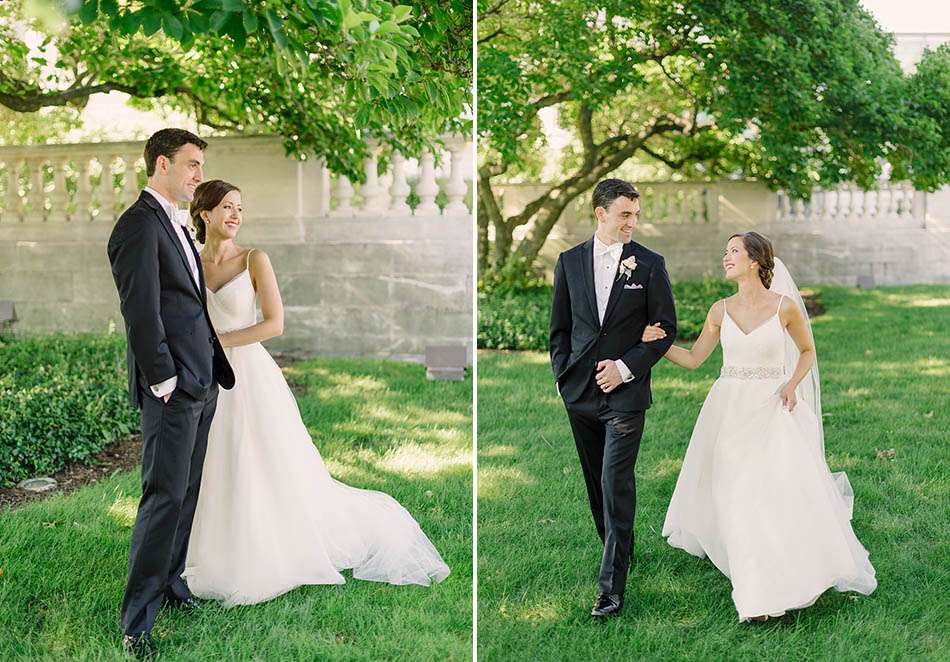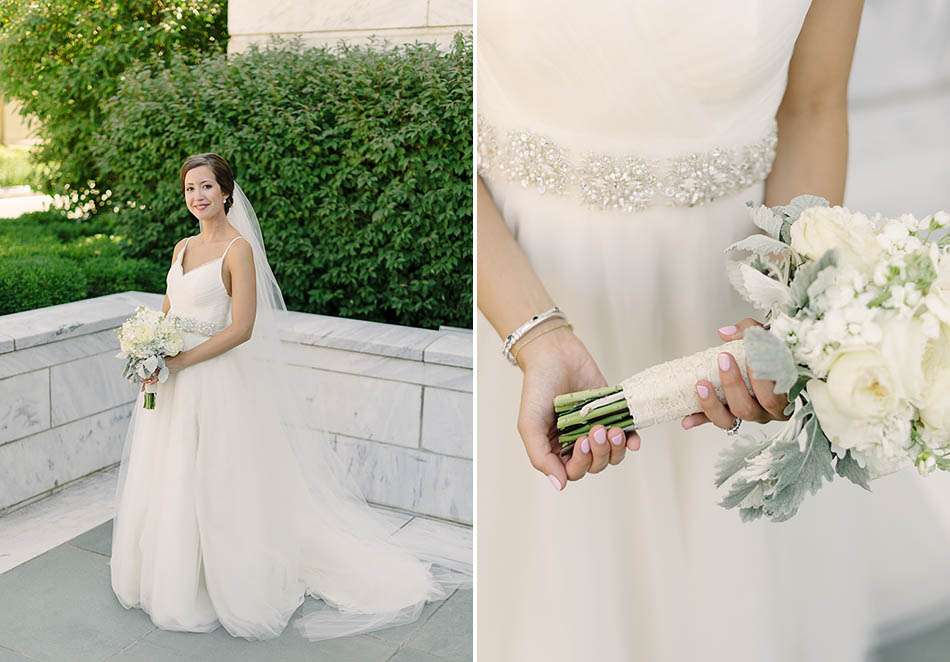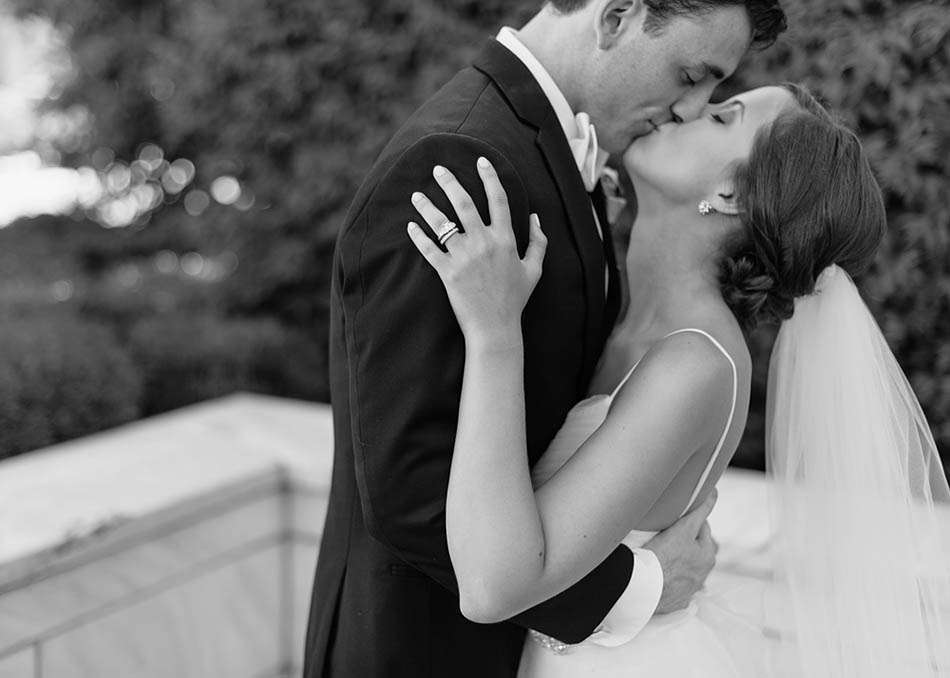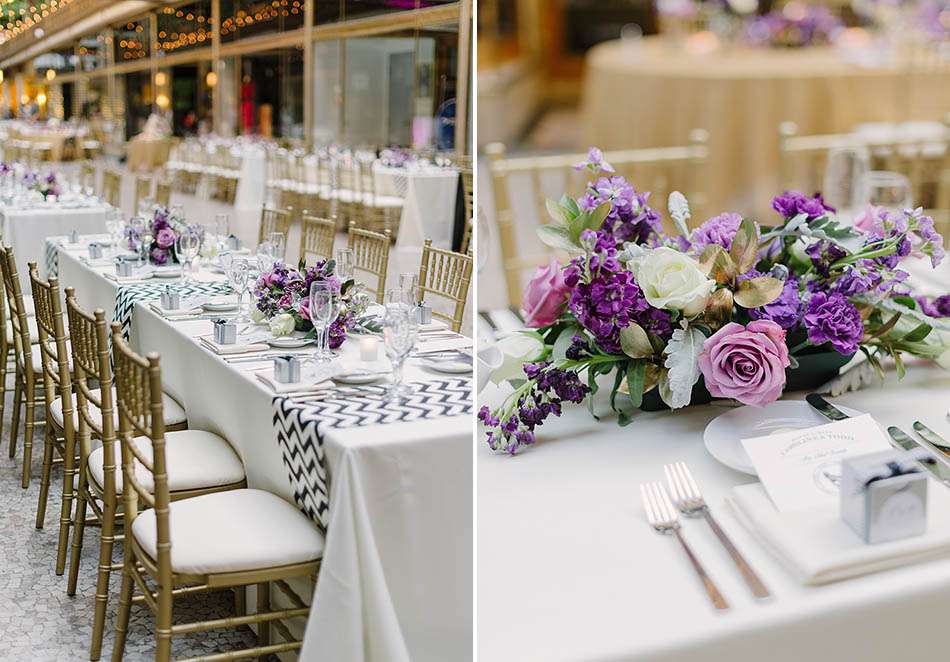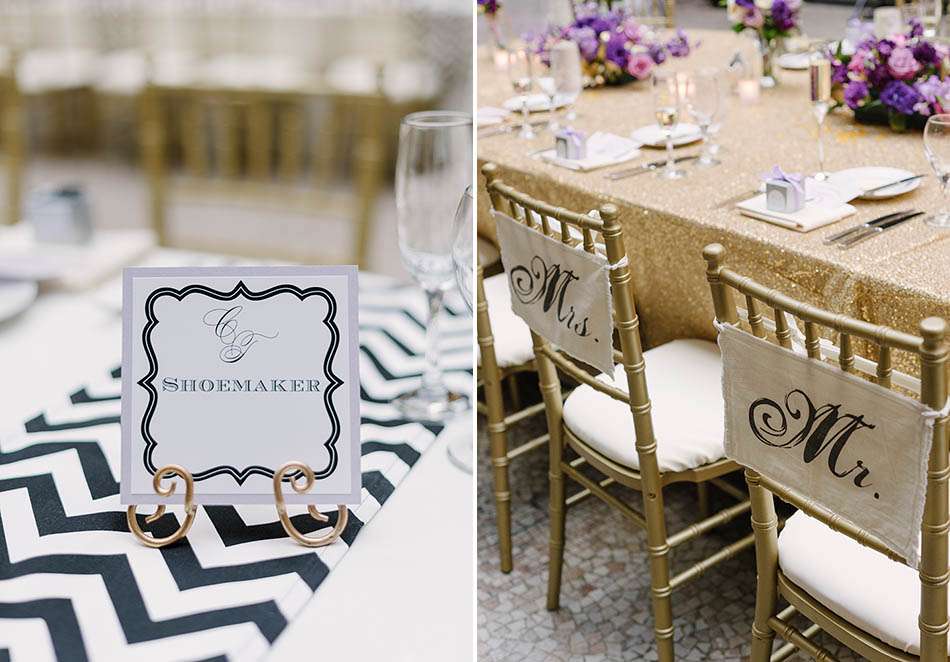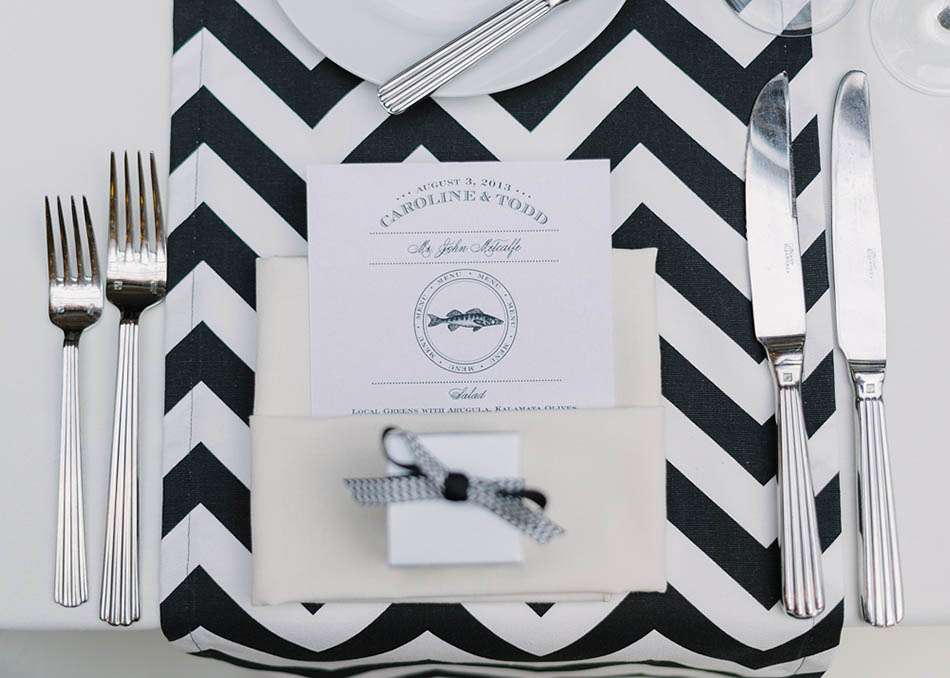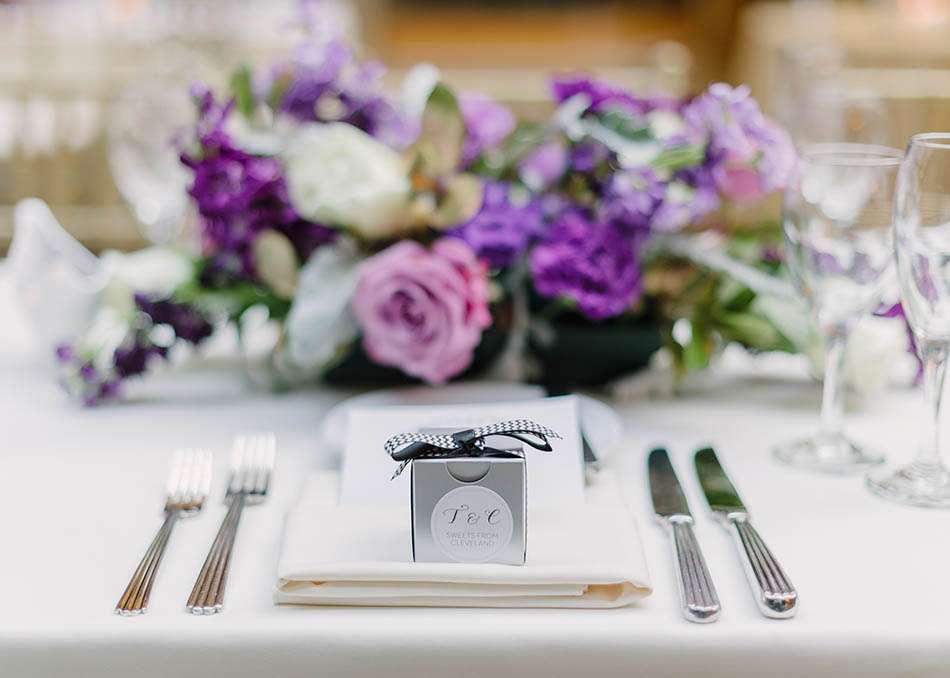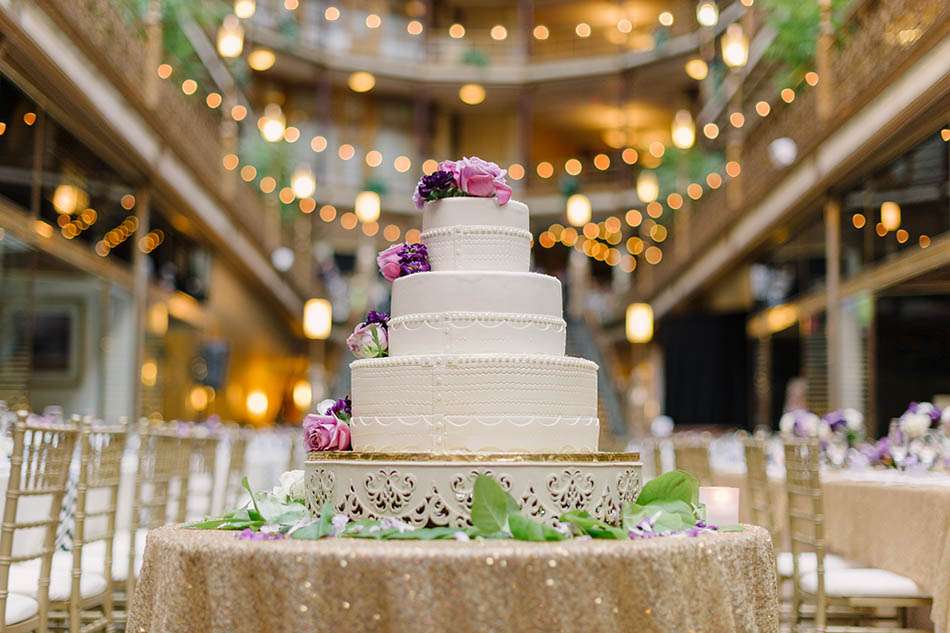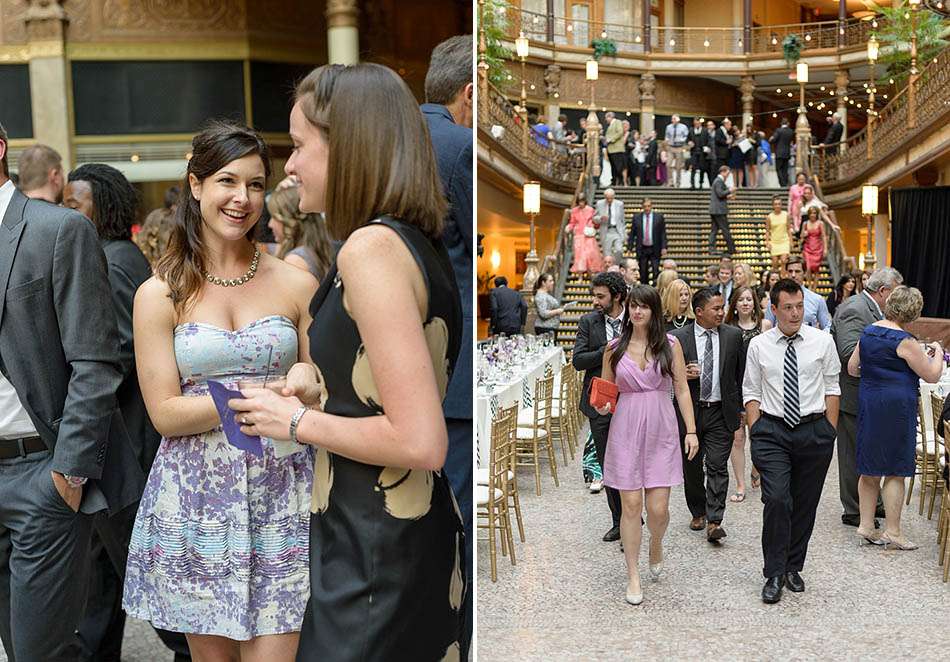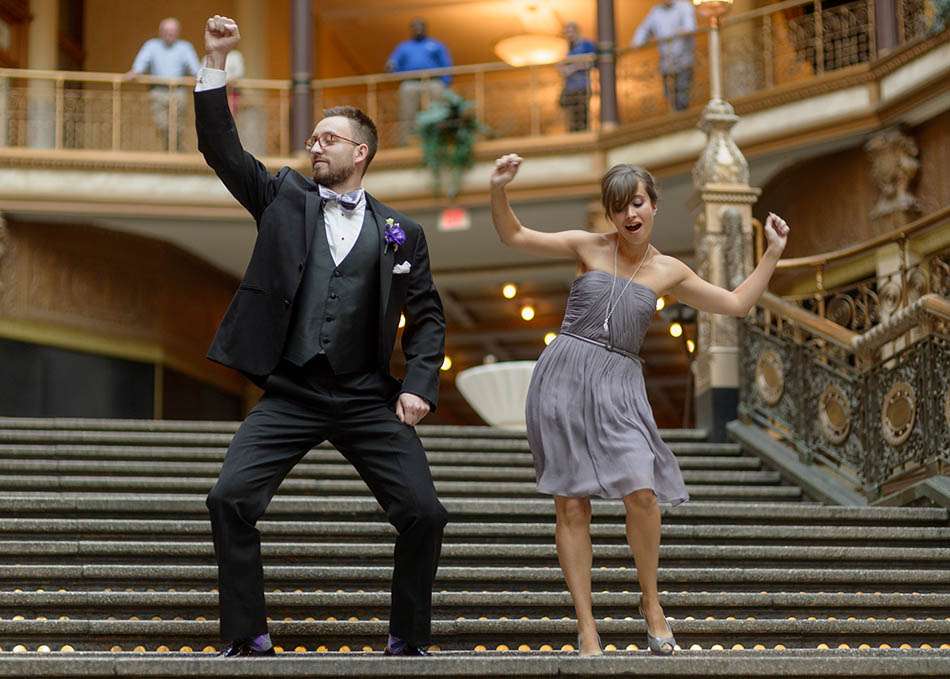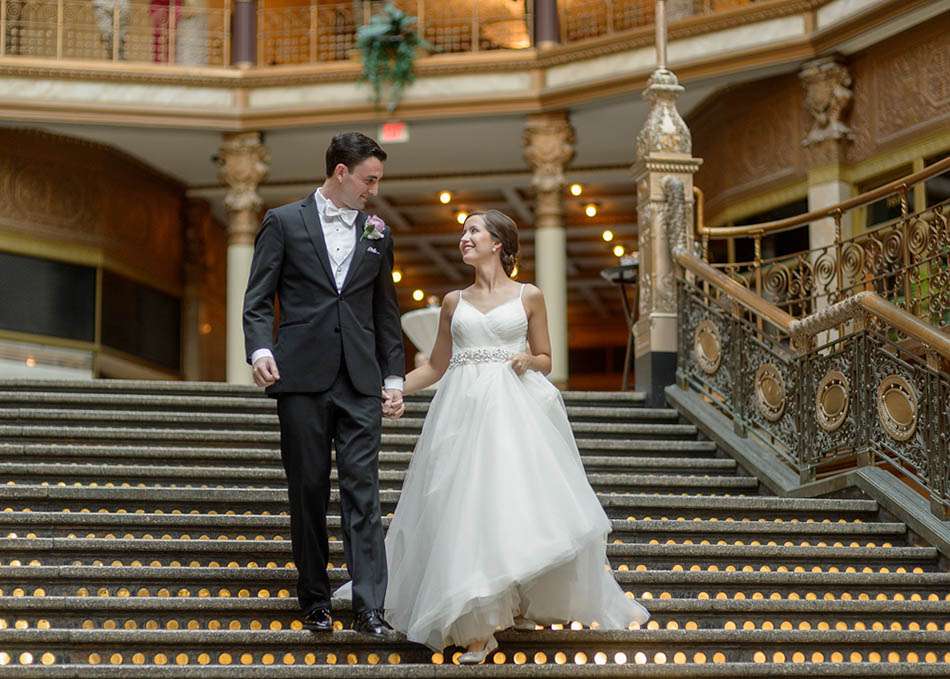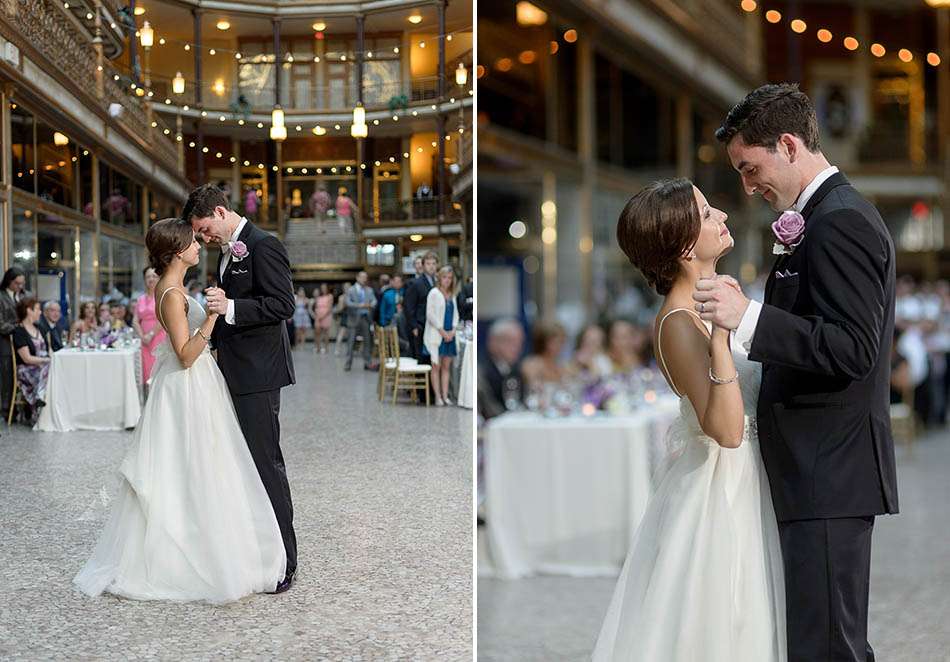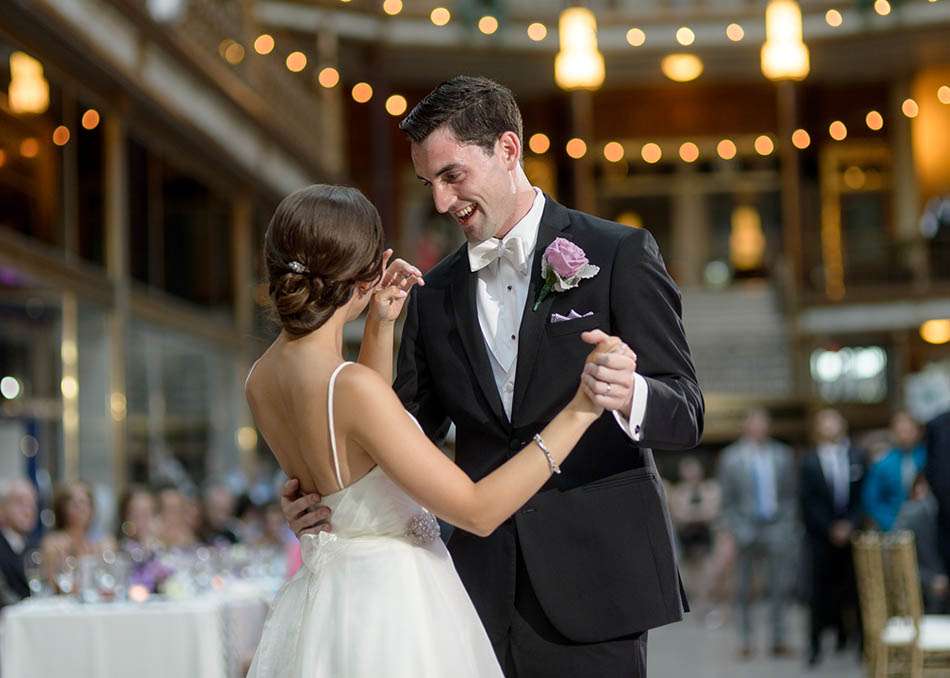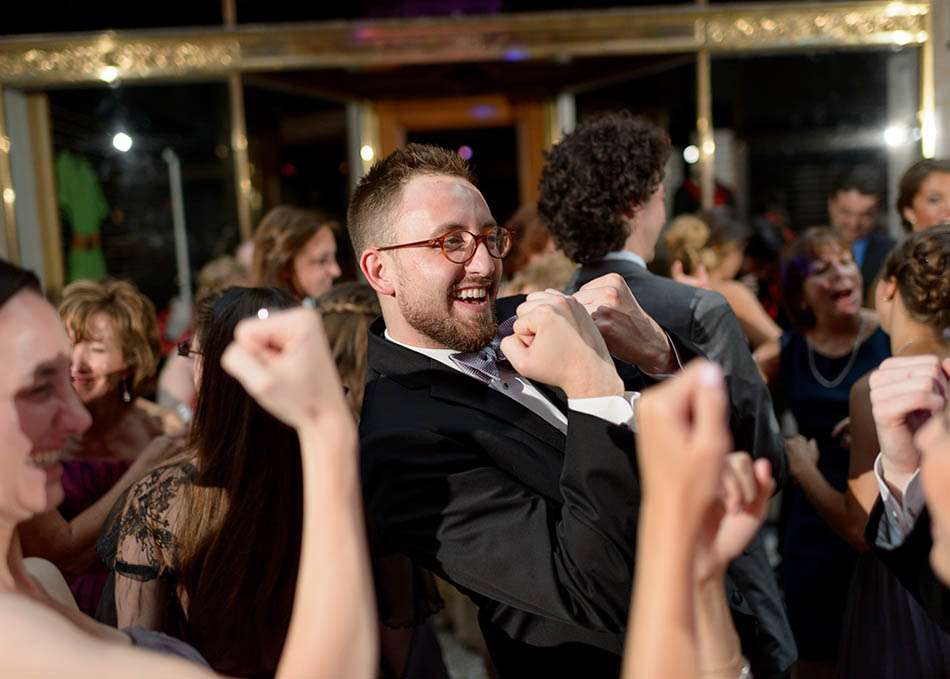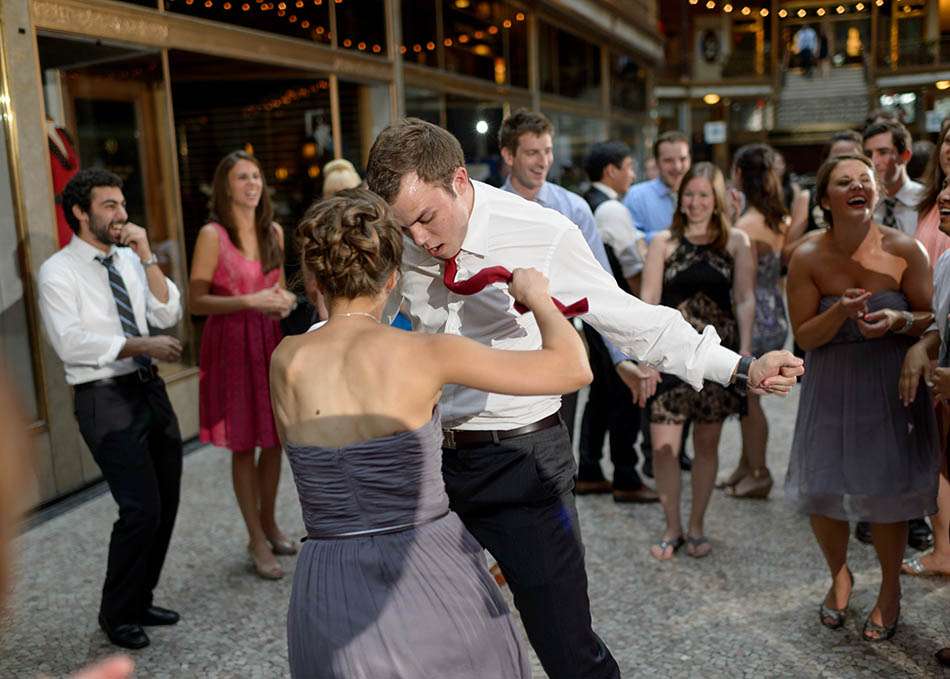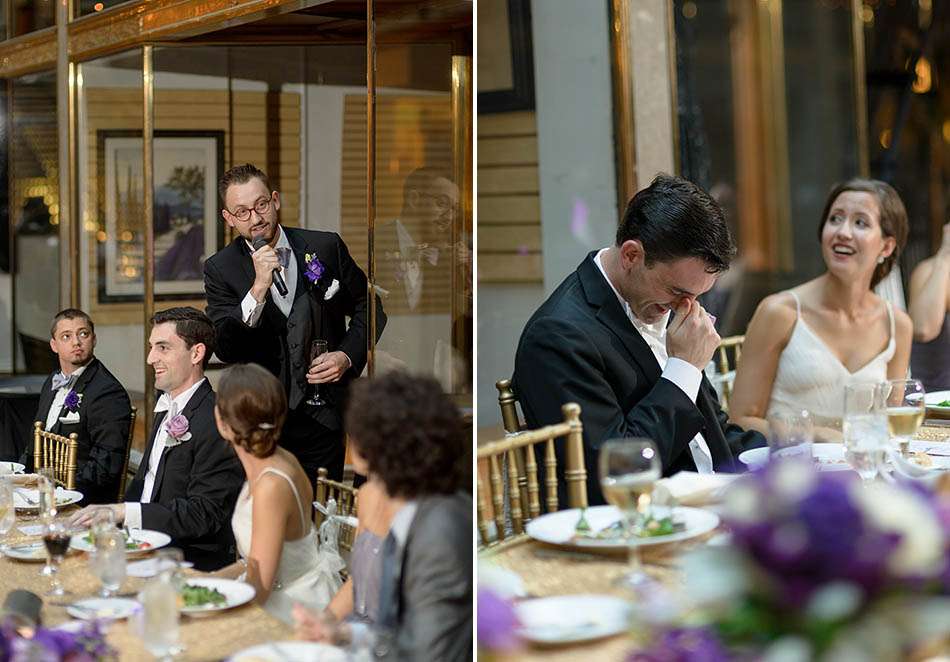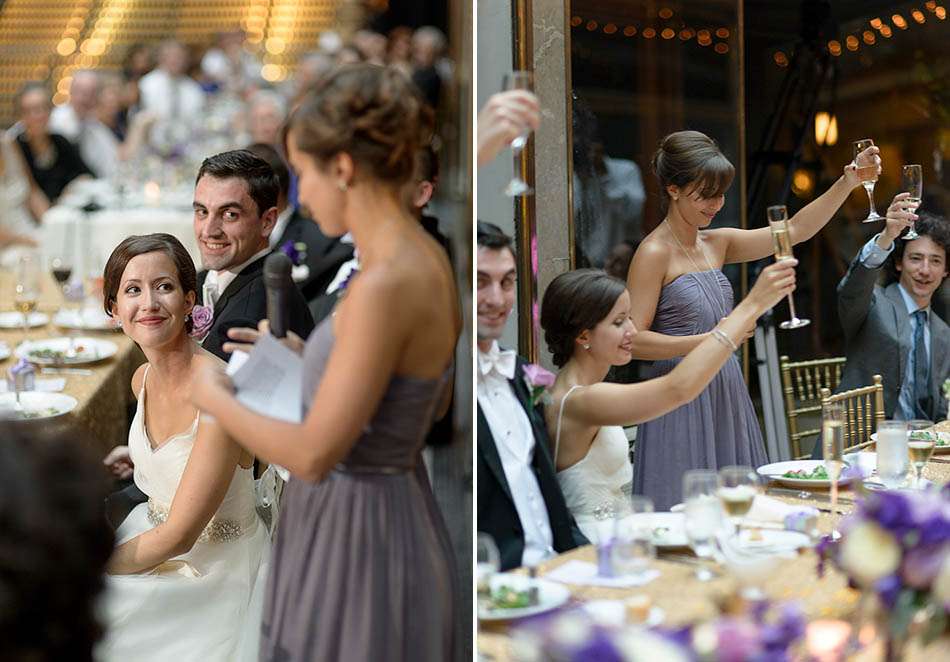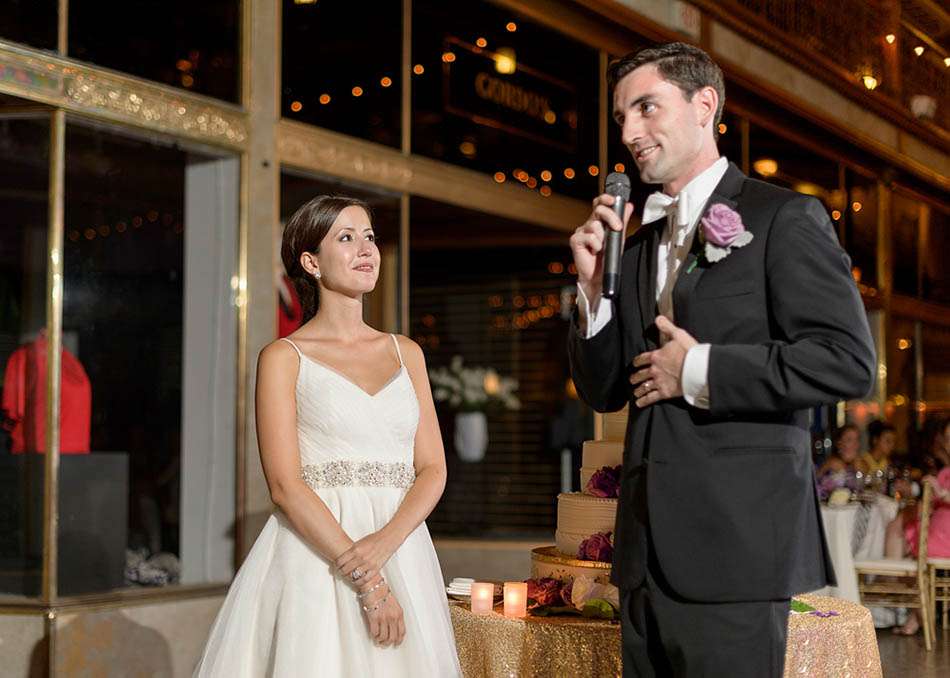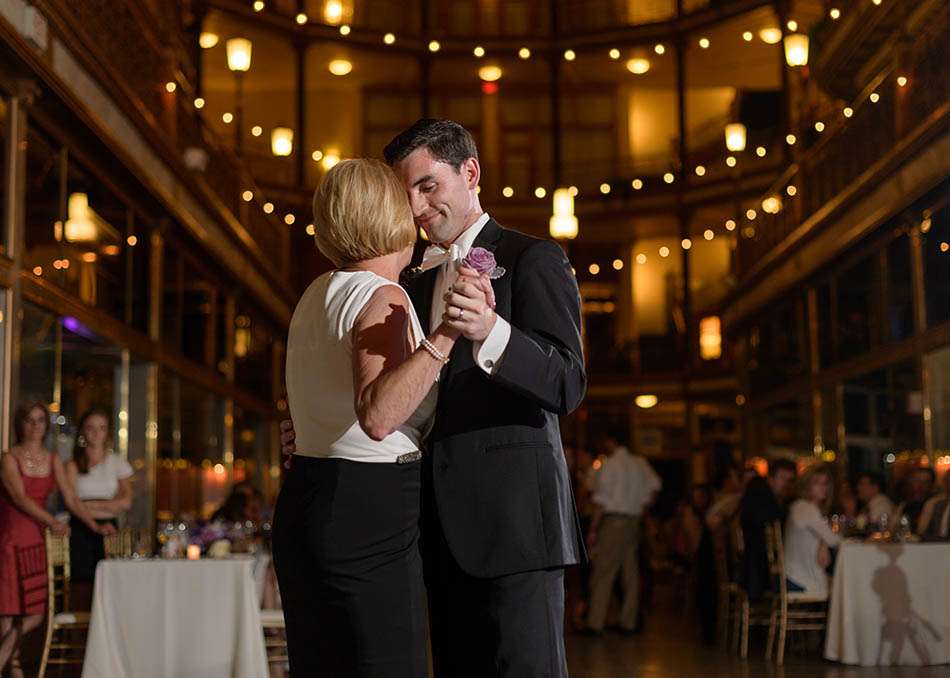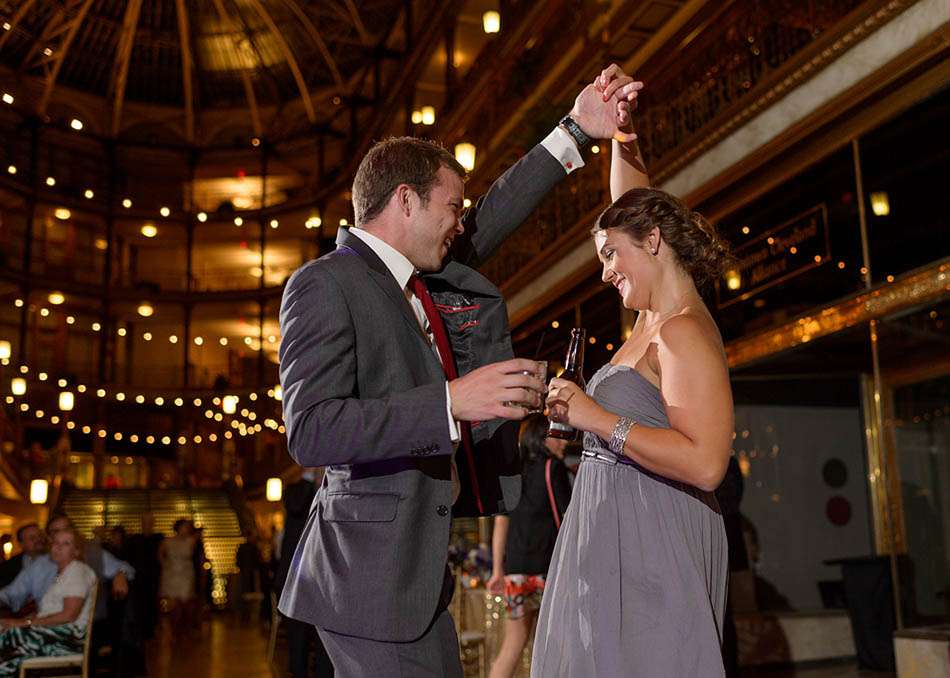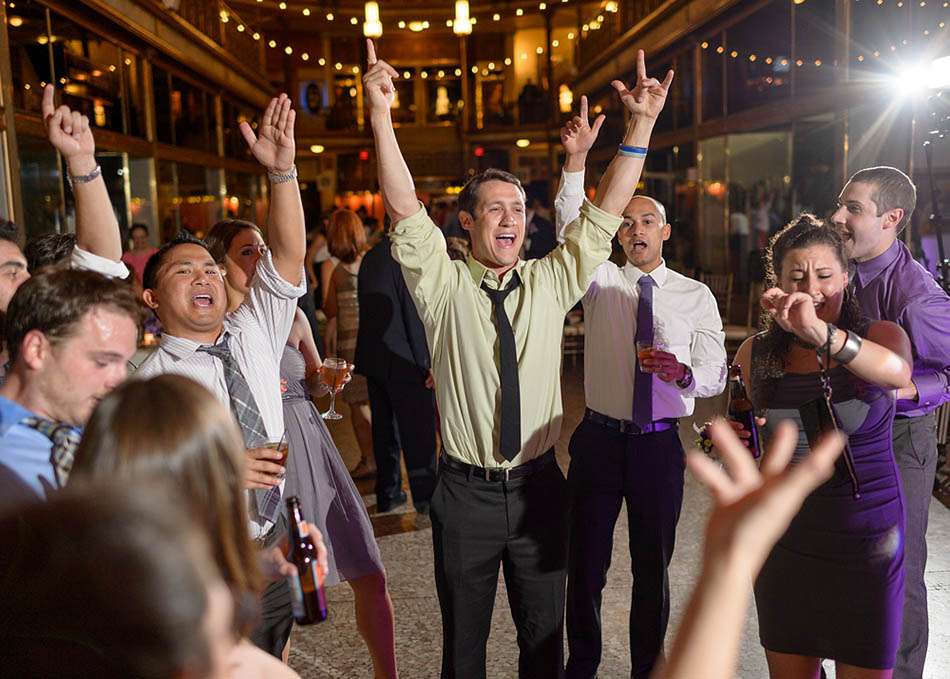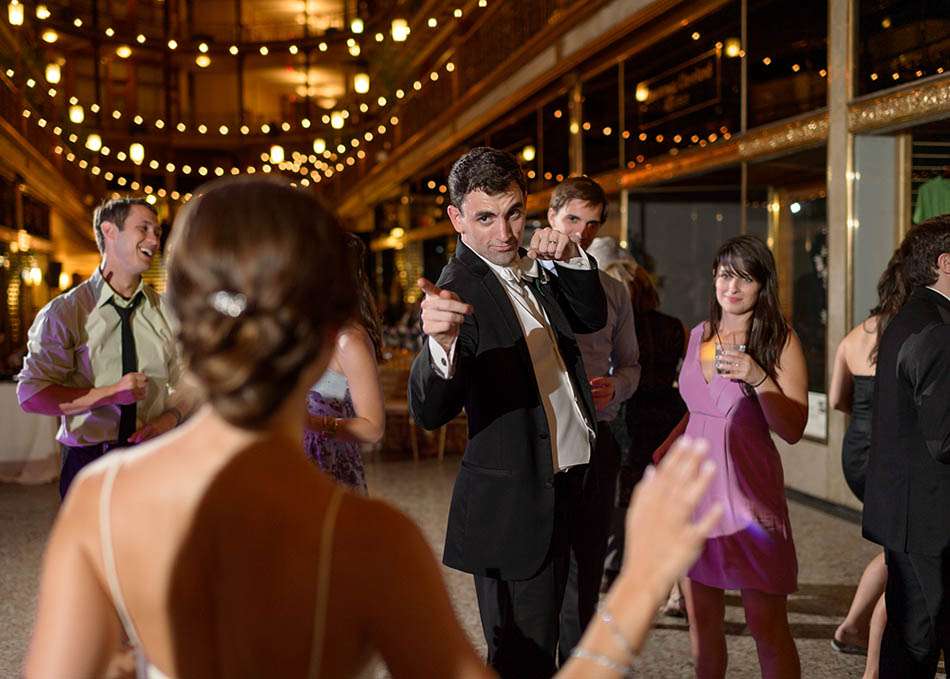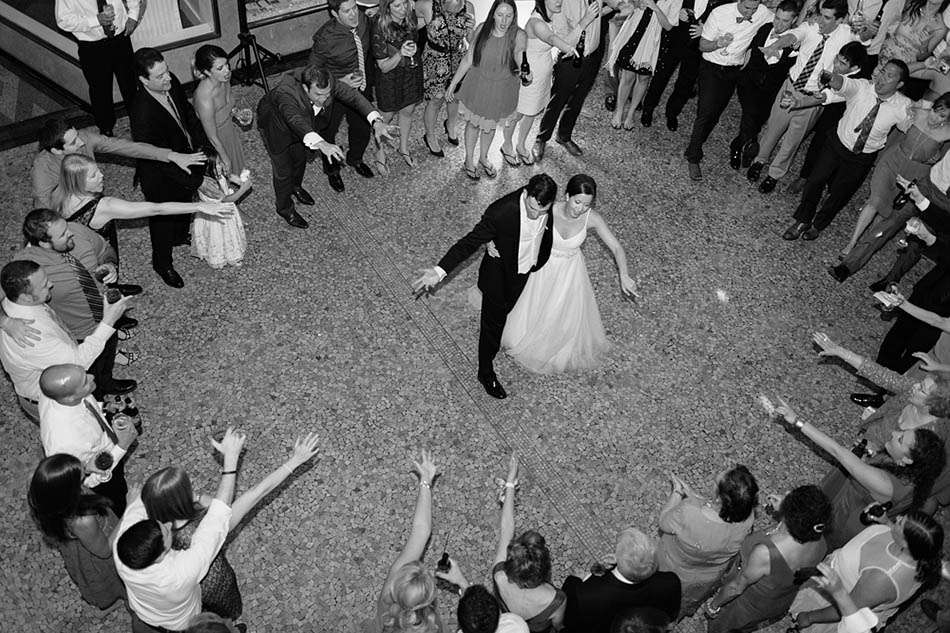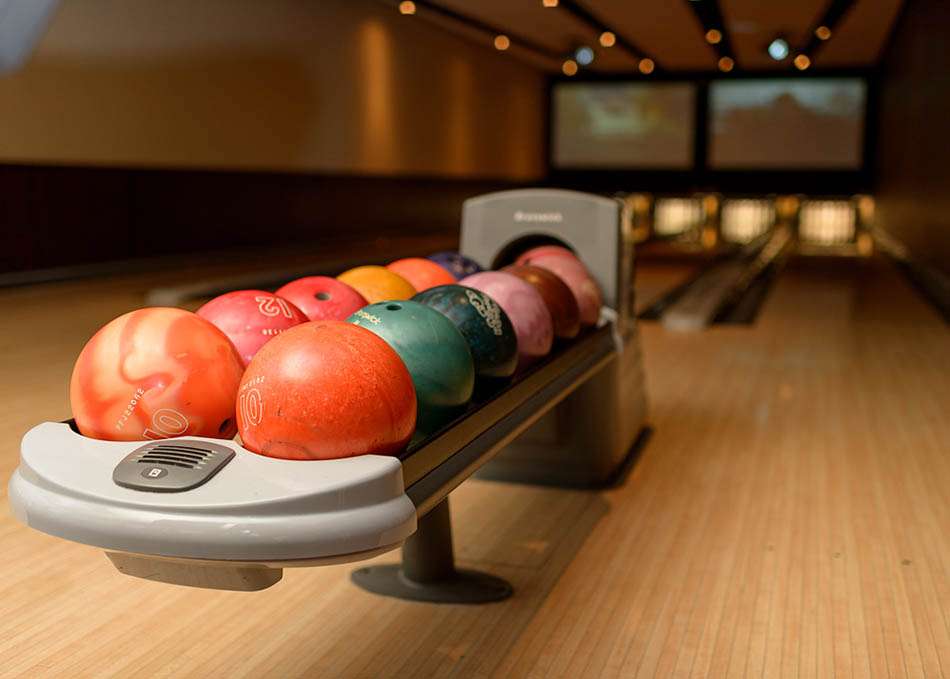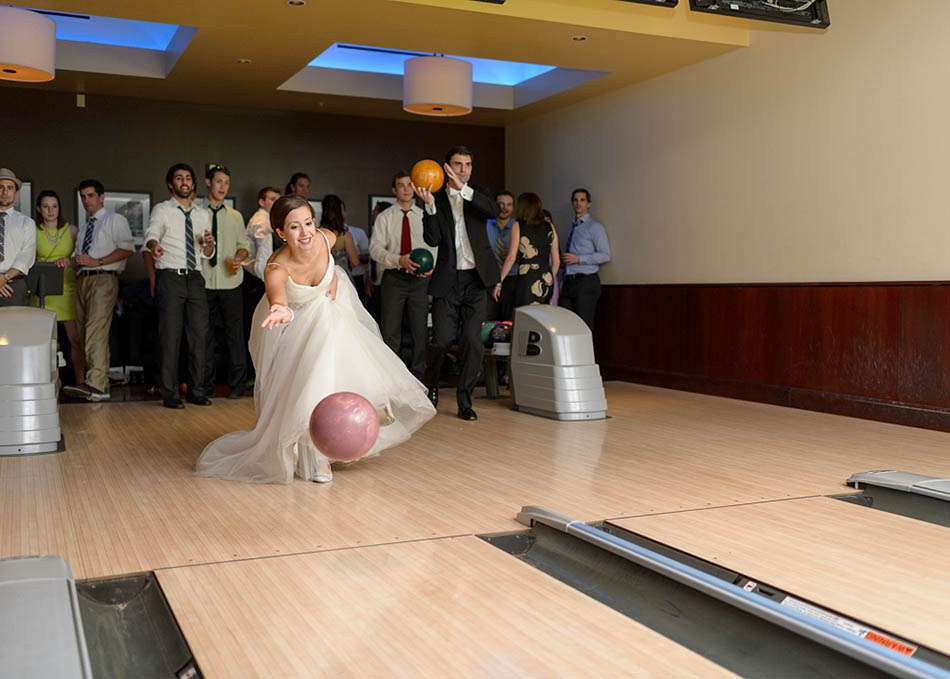 Ceremony – Communion of Saints, St. Ann's Church
Reception – Hyatt Arcade
Event design & planning – Kirkbrides
Cake Artist – Michael Angelo Bakery
Floral design – Grande Designs
Linens – L'Nique and Ultrapom (chevron runners)
Entertainment – Rock the House
Hair and make-up – Ramona Dauksa
Bridal gown – Ivy & Aster, Something White Bridal
Bridesmaids dresses – Donna Morgan
Groom & groomsmen suits – Vera Wang, Men's Wearhouse