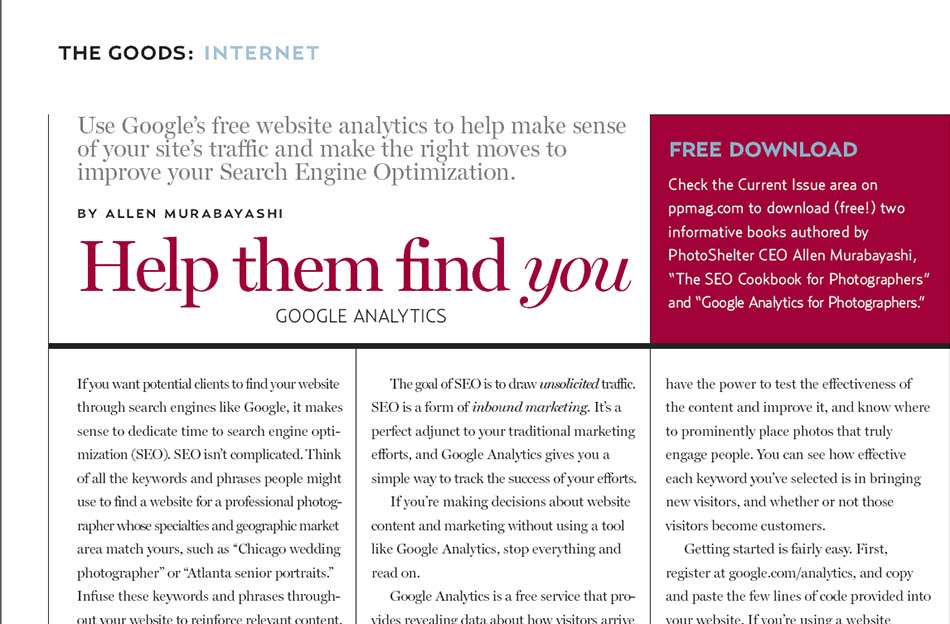 The package waiting for me at home could have been a surprise, but PhotoShelter kept me informed throughout the process. In the end, I was expecting the two glossy copies of Professional Photographer Magazine nestled inside the padded package. Nonetheless, I am thrilled to be published in this month's issue.
Read or download the complete article
PhotoShelter had contact me to see if I use Google Analytics and SEO. After a short discussion, I was invited to participate in an article about how photographers successfully market themselves online. One short interview later and I was published. I have certainly worked very hard marketing my business online, which is like having a second job. In just a year, traffic on my site has tripled and my business has doubled.
Still though, it is not all about marketing. My two central pillars remain exceptional service and excellent photography. Marketing is just a necessary chore.
Take some time to learn more about Professional Photography Magazine, or the article's author, Allen Murabayashi. By the way, Allen is also the head honcho over at PhotoShelter.
P.S. – Allen has the looooongest bio I have ever seen, but it is humorous at least. I dare you to read it all.